Ace of Cups Tarot Card Meanings
Ace of Cups Keywords
Ace of Cups Description
A big cup held by two hands supporting each other is a form of closeness and trust coming from an emotional state, and is symbolized by clouds and rain at the bottom.
The hourglass symbol in the center of the cup shows the meaning of "starting  anew"; it is portrayed in the sand as the duration of time that just started.
At the bottom of the cup, the four-leaf clover stands for faith, hope, love, and luck for the start of a new relationship.
A cornucopia of rose petals filling the cup symbolizes an empty heart filled again with passion and love in a relationship.
Overall, this card symbolizes a renewed hope in reopening the heart.
NOTE: The Tarot card meaning description is based on the Rider Waite cards.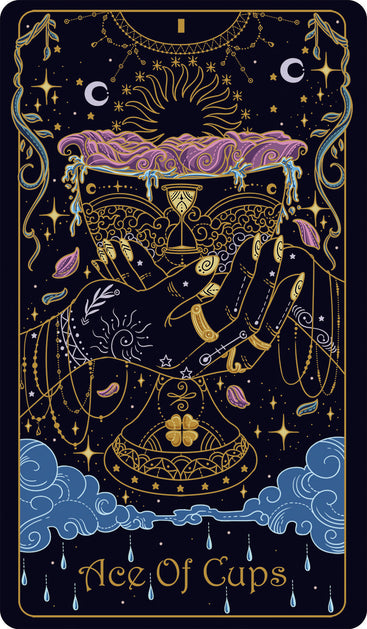 Tridevia Tarot Deck is designed with
156 beautifully crafted positive affirmations in our guidebook
, uniquely aligned to both upright and reversed meanings of each card, to not only guide your readings but also help you manifest your dreams and awaken the divine Goddess within you.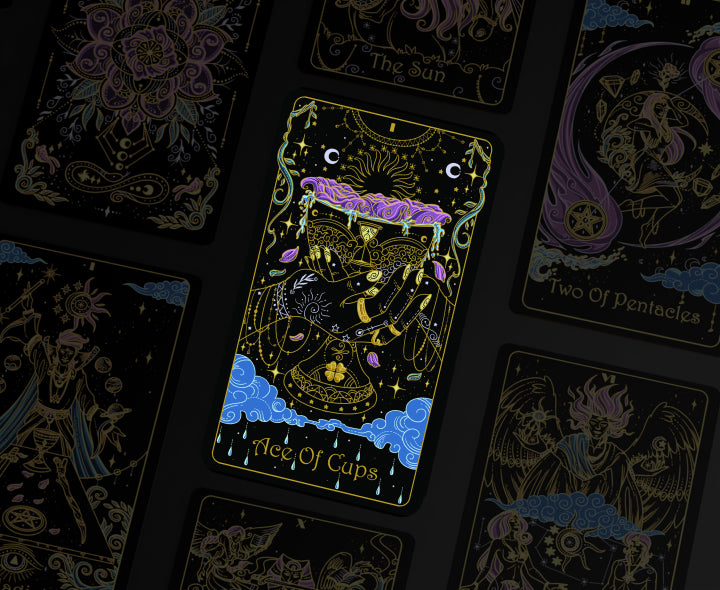 Upright Ace of Cups Meaning
Someone new may come into your life, towards whom you will have strong, positive emotions. Let your intuition guide you and open your heart towards forgiveness, reconciliation, peace and respect. It's a good reminder to cherish your relationships and tell your loved ones how much they mean to you. Let love rule!
Affirmation
I open my heart to the possibility of meeting my soulmate and attracting good emotions by radiating love to everyone in my life.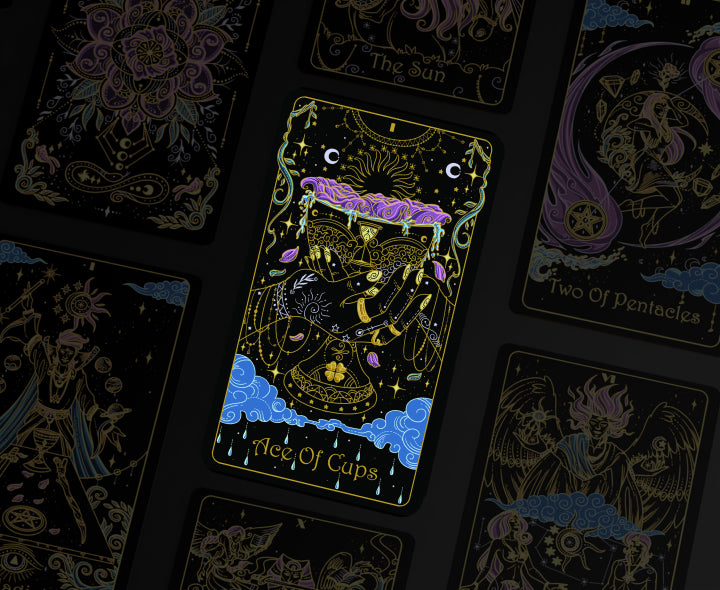 Reversed Ace of Cups Meaning
You might need to let go of someone which will leave you feeling vulnerable. However, don't lose hope — take each experience as a lesson and have faith that everything is working out for your best interests. Take a deep look at your heart and ask yourself if there's anyone whose feelings you might have been neglecting. Remember to practice self-love, as it all comes from within!
Affirmation
I cherish a healthy, happy, loving relationship with myself, as I know that is the foundation of loving others.