Ace of Pentacles Tarot Card Meanings
Ace of Pentacles Keywords
Ace of Pentacles Description
The pentacle sits at the center of all the orbits of life and behaves as the sun, illuminating and moving the energy of the universe.
The energy of its rays awakens life and reveals the natural resources of all material value.
These resources can be harvested, and become a source of abundance for anyone wanting them.
The pentacle is also surrounded by white orbital lines, and forms a large eye when viewed from a distance. The eye symbolizes reality and certainty.
NOTE: The Tarot card meaning description is based on the Rider Waite cards.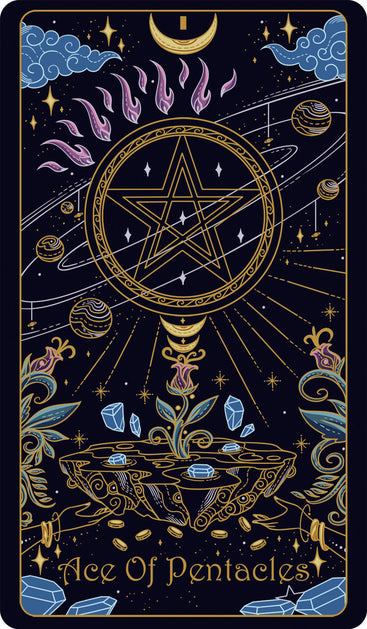 Tridevia Tarot Deck is designed with
156 beautifully crafted positive affirmations in our guidebook
, uniquely aligned to both upright and reversed meanings of each card, to not only guide your readings but also help you manifest your dreams and awaken the divine Goddess within you.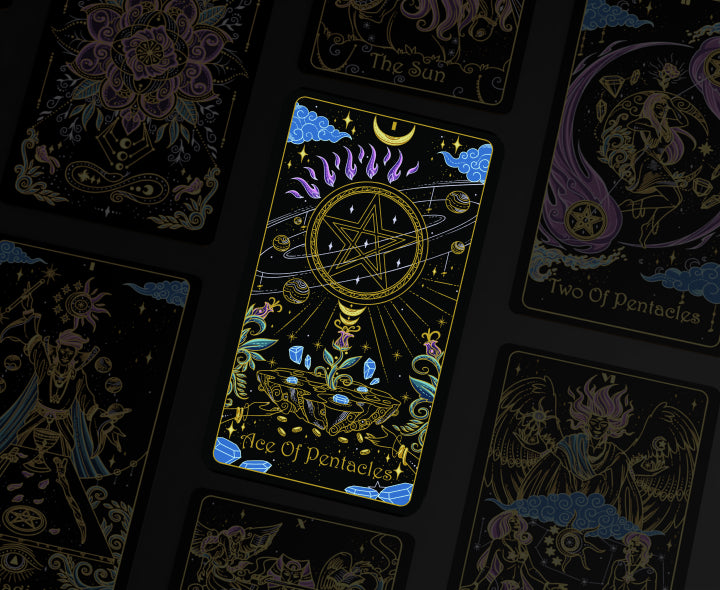 Upright Ace of Pentacles Meaning
You will experience a great manifestation of your desires and abundance coming your way. It's the time of material prosperity and career opportunities - feel free to start investing and use the chances that are ahead of you. Your dreams are finally becoming tangible, and you are richly rewarded for your efforts. Take action and be inspired to go after your goals.
Affirmation
I am proud of my accomplishments and grateful for the materialisations of my efforts.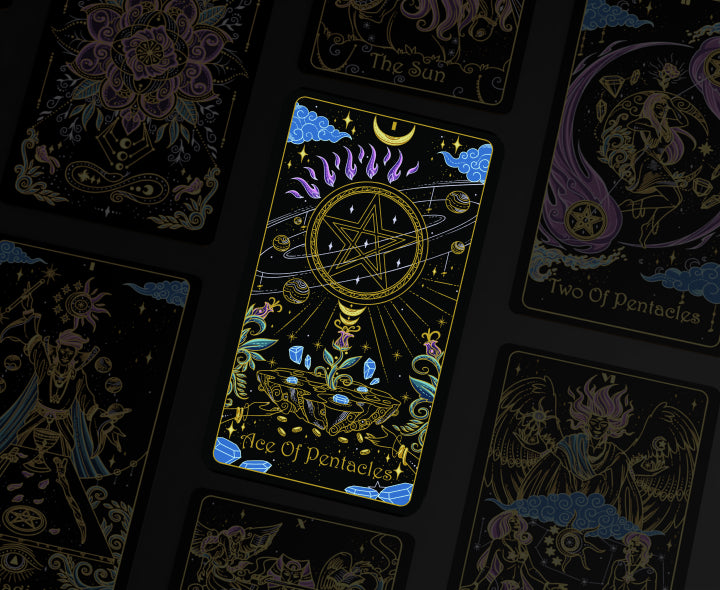 Reversed Ace of Pentacles Meaning
You might have lost an opportunity for material growth. If it's caused by external factors, you should focus on the fact that everything happens for a reason and there's no reason to mourn over lost opportunities. If you are the cause, by maybe being too stingy and having difficulty getting started - this is your lesson to be less materialistic and focus on your inner abundance and be grateful for the things you already have.
Affirmation
I know that feeling prosperous will bring abundance in my life so I shift my focus on all the things I do have.