Ace of Swords Tarot Card Meanings
Ace of Swords Keywords
Ace of Swords Description
A single sword tries to cleave and rip apart a sea that symbolizes different situations and emotions.
The sword represents sharp logic, and a way of thinking that can cut through and beat these emotions.
In the center of the sword  are  stars which symbolize ideas and logic, marching across the sea of emotions to fly up and join the sun and the moon, where they belong.
NOTE: The Tarot card meaning description is based on the Rider Waite cards.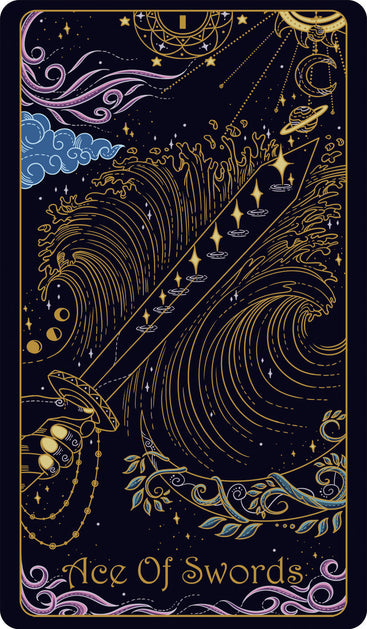 Tridevia Tarot Deck is designed with
156 beautifully crafted positive affirmations in our guidebook
, uniquely aligned to both upright and reversed meanings of each card, to not only guide your readings but also help you manifest your dreams and awaken the divine Goddess within you.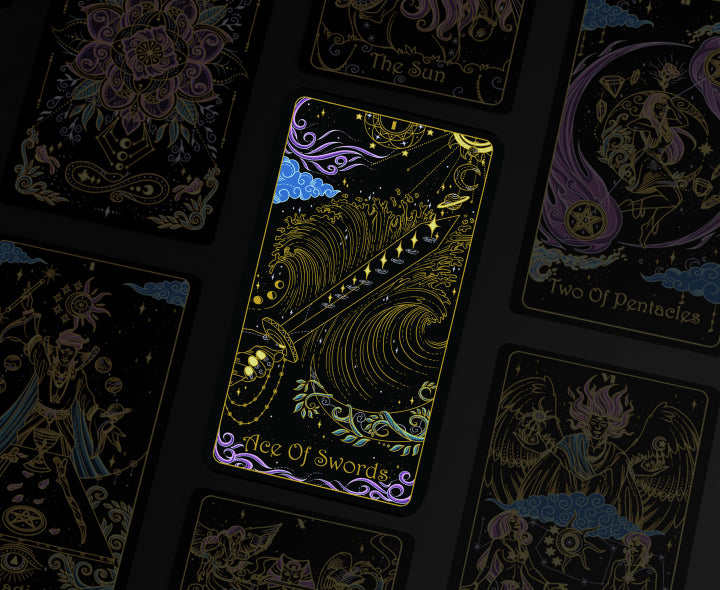 Upright Ace of Swords Meaning
New waves of emotion, new thoughts and fresh energy is coming your way. Be ready for the unknown and welcome it. Include new patterns in your life and see how your circumstances unfold for your best interests. Meditate regularly in order to be more in tune with yourself and clear the clutter of your mind that might be overwhelmed with thoughts. Be rational and grab new opportunities!
Affirmation
I am welcoming new ideas and opportunities.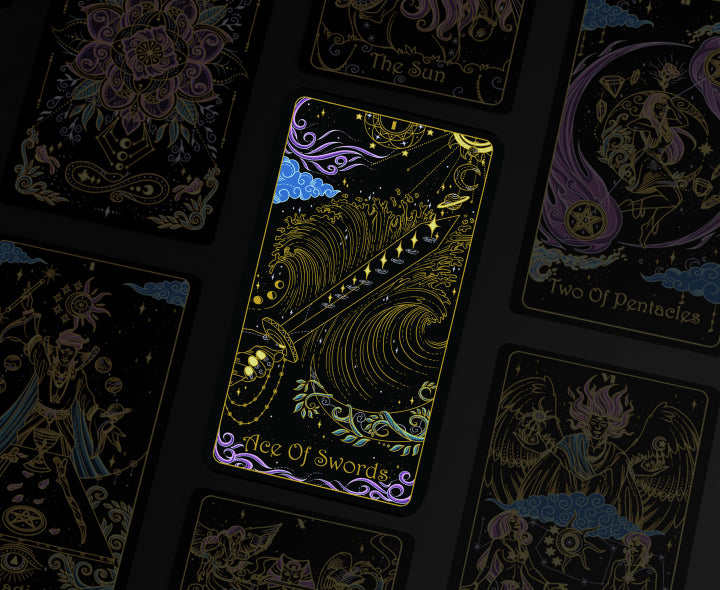 Reversed Ace of Swords Meaning
You might have an idea that is not yet realized due to lack of clarity. This is an invitation to get your priorities straight and decide on what you really want in life. Set achievable goals for yourself and stick to your decisions. Take time to reflect and have a clear vision on your aspirations. If you lack mental clarity and feel like you're running in circles regarding some decision, make sure to meditate on it.
Affirmation
I clear my mental clutter by familiarizing myself with my thoughts.