Eight of Wands Tarot Card Meanings
Eight of Wands Keywords
Upright
Speed, Progress, Quick Decisions, Excitement, Expansion Through Communication or Travel
Skip to Upright meaning
Eight of Wands Description
Eight wands shot at one point symbolize focus.
The dartboard is a symbol of competition, a platform for achieving goals and success.
The burning fire represents intense passion and devotion, and the gold coins and precious jewels serve as symbols of distraction.
NOTE: The Tarot card meaning description is based on the Rider Waite cards.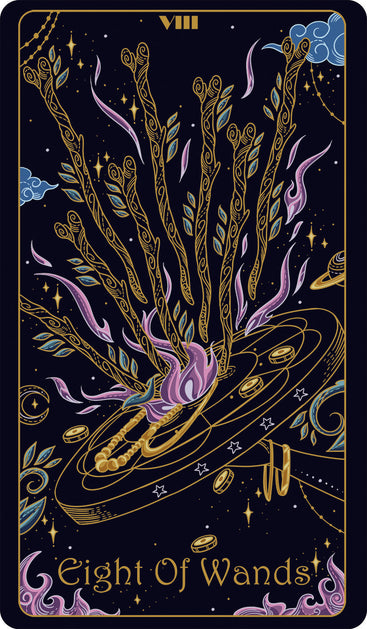 Tridevia Tarot Deck is designed with
156 beautifully crafted positive affirmations in our guidebook
, uniquely aligned to both upright and reversed meanings of each card, to not only guide your readings but also help you manifest your dreams and awaken the divine Goddess within you.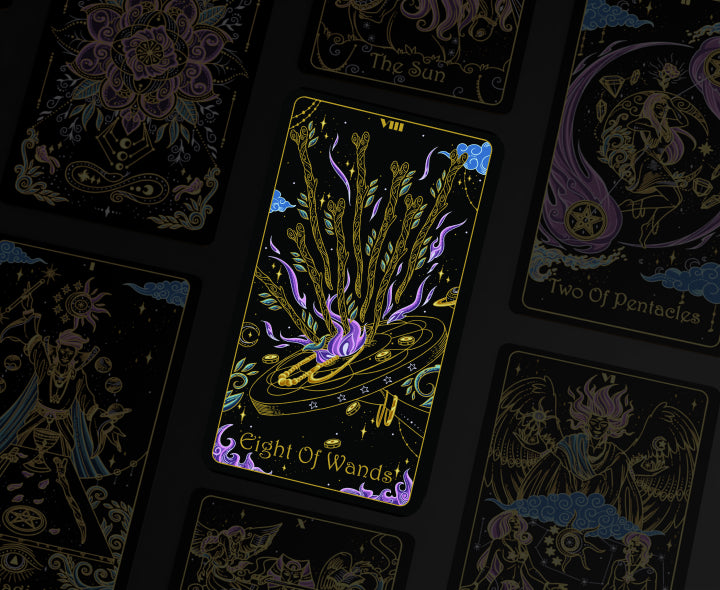 Upright Eight of Wands Meaning
You feel intense emotions, you're energized and ready for action. Everything is moving at a fast pace, you're feeling good vibes and feel like you're floating through life. Take all the chances that come your way and don't be hesitant to take up an adventure. It can be the best time of your life! Enjoy this momentum and don't resist the unknown - everything is aligning for the best.
Affirmation
I enjoy the dynamics of life and feel excited about what's coming up next.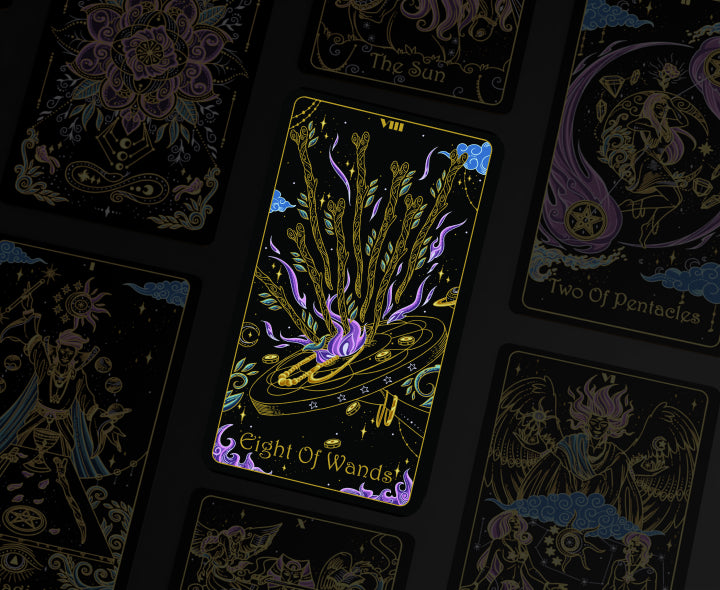 Reversed Eight of Wands Meaning
Your energies are a bit blocked right now, you're feeling stuck and confused. You feel like everything is happening at a faster pace than you anticipated and you can't keep up with life's events. It's time to step back and get your life in order. Get your priorities straight, include some changes in your routine and find your flow. Trust the timing of the Universe.
Affirmation
Everything is happening at the right time for me.