Five of Wands Tarot Card Meanings
Five of Wands Keywords
Five of Wands Description
All of the five wands fall like dominoes and depict the friction faced when competing.
The flicking hand symbolizes that we need a conflict or competition to move forward, and in the end it promises victory to whoever is qualified, which is shown as a burning fire on the last wand. 

The land encrusted with diamonds signifies the important aspects of everyday life, such as work, relationships, family, and more.
Saturn, with its crown ring, symbolizes honest leadership and serves as a witness to the competition and the resolution of conflicts taking place below.
NOTE: The Tarot card meaning description is based on the Rider Waite cards.
Tridevia Tarot Deck is designed with
156 beautifully crafted positive affirmations in our guidebook
, uniquely aligned to both upright and reversed meanings of each card, to not only guide your readings but also help you manifest your dreams and awaken the divine Goddess within you.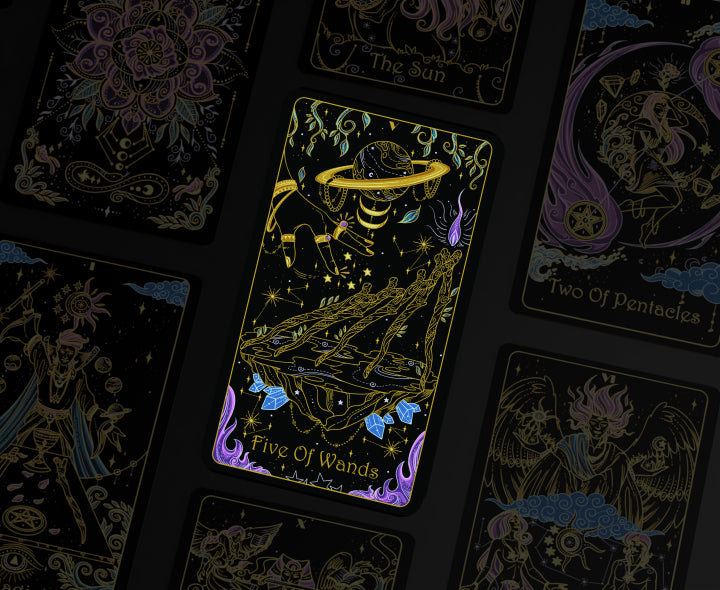 Upright Five of Wands Meaning
You are in a highly competitive environment. It doesn't necessarily need to be a bad thing. Sometimes conflict and discussion can be very productive, such as with group problem-solving and brainstorming. Use it as an opportunity to improve yourself and don't give in to the drama and arguments. Feel empathy for others and hear them out even if you agree to disagree.
Affirmation
I'm aware that other people may have a different perspective than me and I accept our different approaches.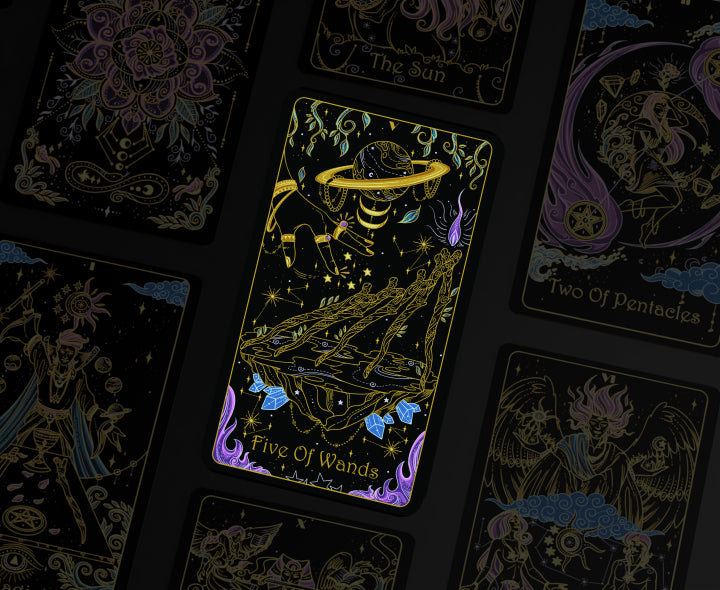 Reversed Five of Wands Meaning
Some conflict has been resolved and you feel relieved. However, you might feel an inner conflict and feel scattered with different options. You have strong opinions about some topics but you feel like your heart is leading you towards the opposite so you feel confused. Avoiding contradictions with others leaves you feeling unheard and you have some unexpressed emotions building up.
Affirmation
I live in harmony with myself and others.