Four of Cups Tarot Card Meanings
Four of Cups Keywords
Four of Cups Description
The woman sitting in the lotus pose symbolizes serenity, and she is seen meditating and resting from all senses and feelings.
The two empty cups facing up and two others facing down mean that not everything has to function all the time; there will be times when we have to break free from emotions.
At the top of the card, there are images of the sun and light, as a sign of daytime.
At the bottom, there are images of the moon and the stars, as a sign of night. Both denote that we need to work and then rest for a while, like the universe with its alternation of day and night.
The open eye symbol at the top symbolizes consciousness, and the closed eye at the bottom symbolizes rest.
NOTE: The Tarot card meaning description is based on the Rider Waite cards.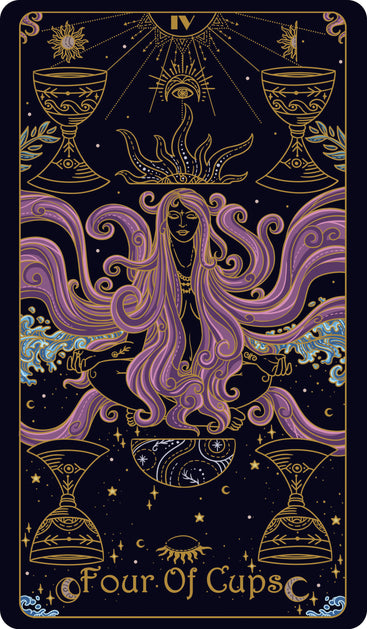 Tridevia Tarot Deck is designed with
156 beautifully crafted positive affirmations in our guidebook
, uniquely aligned to both upright and reversed meanings of each card, to not only guide your readings but also help you manifest your dreams and awaken the divine Goddess within you.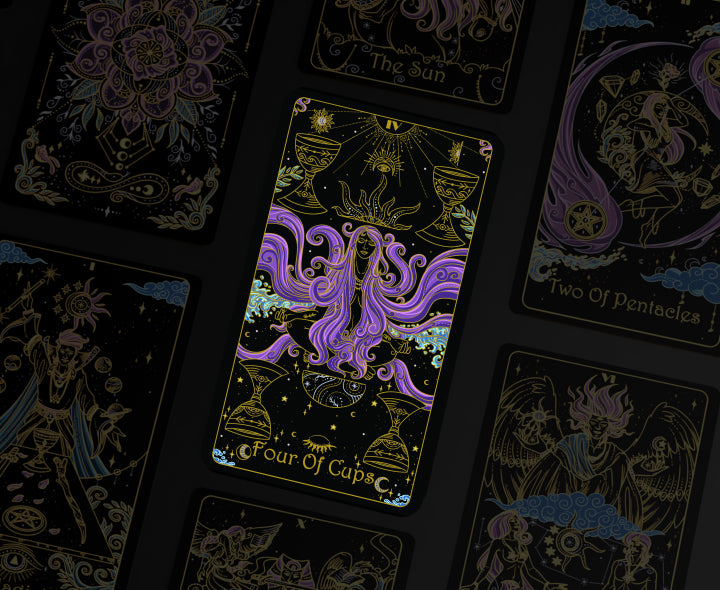 Upright Four of Cups Meaning
If you're considering making some changes in your life, you might feel hesitant to make a choice. Take time to meditate and let your inner feelings guide you. Focus on the positive aspects and trust that your intuition is leading you to the right path. Don't think too much, but don't make abrupt decisions either. Let the solution come to you peacefully and naturally.
Affirmation
My intuition and my gut feelings are leading me to the right path.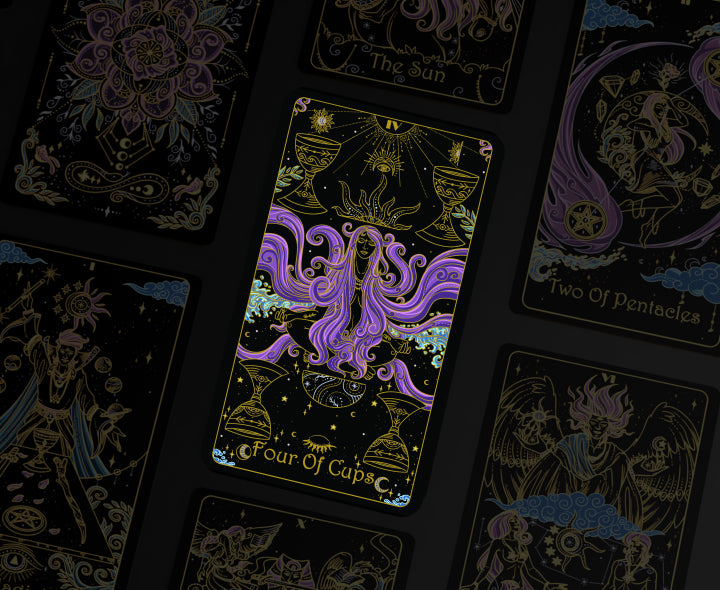 Reversed Four of Cups Meaning
Your past may have been filled with negative emotions which left you feeling unmotivated. In order to take your life back, you should stop living in the past. Focus on the present moment and do the things you enjoy, in order to create a better future! Be open for new experiences and release the old, repetitive actions which made you feel stagnant and stuck in life.
Affirmation
I am aware that old ways won't open new doors - therefore I am open to a new world of possibilities.