Four of Wands Tarot Card Meanings
Four of Wands Keywords
Four of Wands Description
Hands touch each other forming a close bond of family and friendship.
Each hand raises a staff with a fire burning, symbolizing a celebrato- ry torch.
The four masks represent all of the different emotions when socializing.
The roses drooping in opposite directions symbolize different perspectives, and the ability to appreciate them, which livens up the meaning of socialization.
The clouds at the bottom express being at a peak of happiness.
NOTE: The Tarot card meaning description is based on the Rider Waite cards.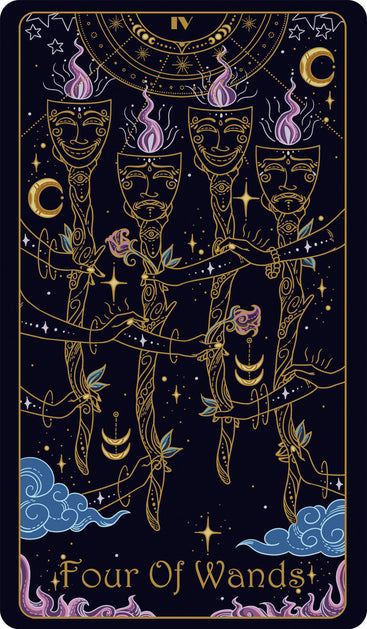 Tridevia Tarot Deck is designed with
156 beautifully crafted positive affirmations in our guidebook
, uniquely aligned to both upright and reversed meanings of each card, to not only guide your readings but also help you manifest your dreams and awaken the divine Goddess within you.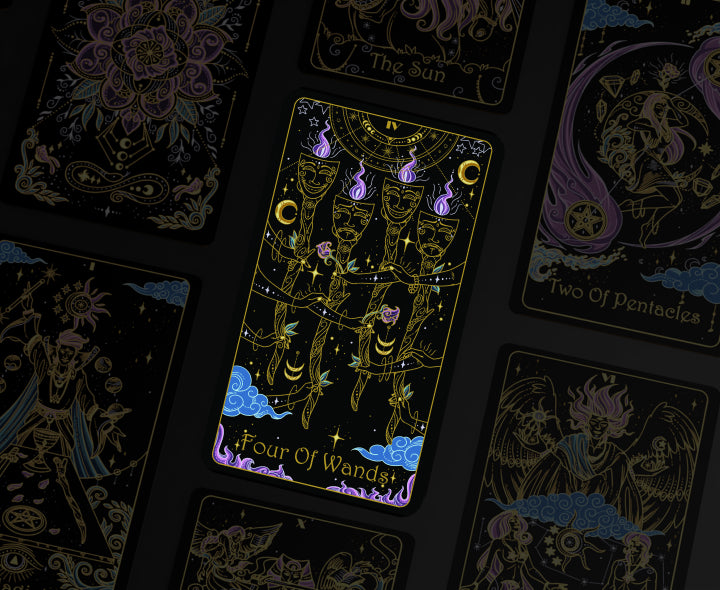 Upright Four of Wands Meaning
It's time to celebrate your achievements with your loved ones! Make a party, invite everyone and enjoy every minute of it. You deserve to be happy and feel abundant. It's important to rest after a period of hard work and dedication and to look back on what you have accomplished and feel proud. You're balanced and in harmony with yourself and with others. Cherish this feeling!
Affirmation
I am successful and loved and I'm grateful for everyone who supports me in achieving my dreams.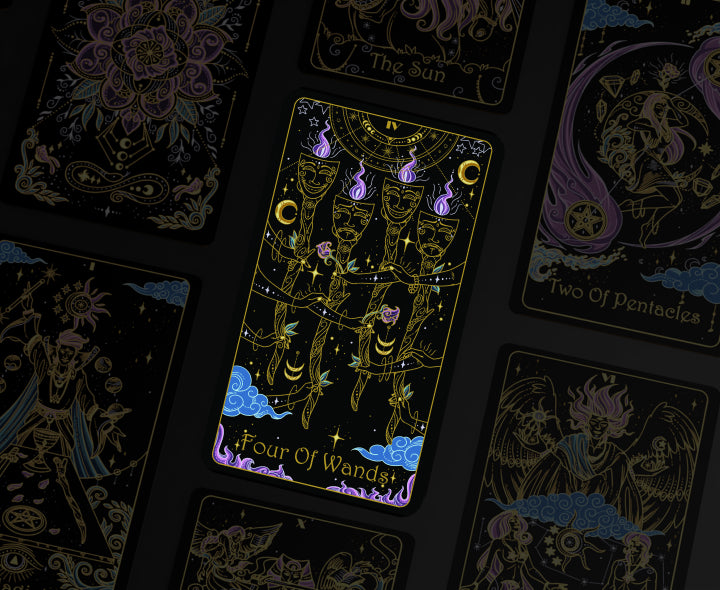 Reversed Four of Wands Meaning
You have managed to change some habits that were not serving your highest purpose. However, you're not making a big deal out of it as you know that journey is not done yet. Don't be too hard on yourself and take time to celebrate your milestones. Some relationships may be confusing right now and causing you discomfort, but it's time for you to remember your value.
Affirmation
I'm aware that a journey of a thousand miles begins with a single step.