King of Cups Tarot Card Meanings
King of Cups Keywords
King of Cups Description
A king sits on his throne holding a cup and a scepter. With the scepter he is able to control water; water symbolizing feelings. So, he is able to control the feelings of everyone in front of him.
The king himself is a symbol of love and takes full responsibility for what he does.
The sun behind his head signifies greatness and divine choice.
The hanging stars bear witness to his goodness. He sits on raging waves, but with his wisdom he is able to sit still and turn the ripples of the water calmer around him.
NOTE: The Tarot card meaning description is based on the Rider Waite cards.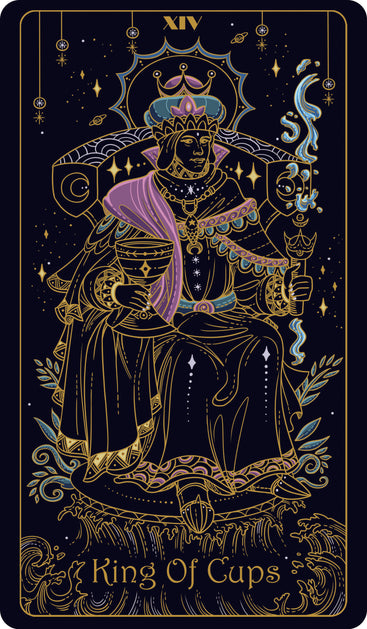 Tridevia Tarot Deck is designed with
156 beautifully crafted positive affirmations in our guidebook
, uniquely aligned to both upright and reversed meanings of each card, to not only guide your readings but also help you manifest your dreams and awaken the divine Goddess within you.
Upright King of Cups Meaning
You're wise, emotionally mature, a good listener and a leader. Being moderate in everything and controlling your emotions are your strengths. However, you should focus on your feminine side a bit more and trust your feelings, instead of trying to rationalize everything. Emotions will guide you to the right path and give you insight into other people's motives.
Affirmation
I put focus on my emotions by not trying to rationalize everything.
Reversed King of Cups Meaning
It is important to reconsider the advice you receive from others as someone might want to deliberately manipulate you. If you found yourself in a situation that provoked strong emotions from you, it would be good to sit down and try not to act too impulsive as you may regret your behavior later. Try to control your feelings by meditating and doing breathing exercises.
Affirmation
I allow my breath to be an anchor to my feelings and I find balance by practicing mindfulness.