Nine of Pentacles Tarot Card Meanings
Nine of Pentacles Keywords
Nine of Pentacles Description
The eagle symbolizes the nature of focus and self - sustained independence. It stands on the highest peak and rules the sky. This high place represents an intense situation where staying focused is key.
The nine pentacles the eagle sits on are eggs which symbolize all of its achievements. Now, it is the best and getting the best.
The light around its head symbolizes self-empowerment which thrives under suitable conditions.
NOTE: The Tarot card meaning description is based on the Rider Waite cards.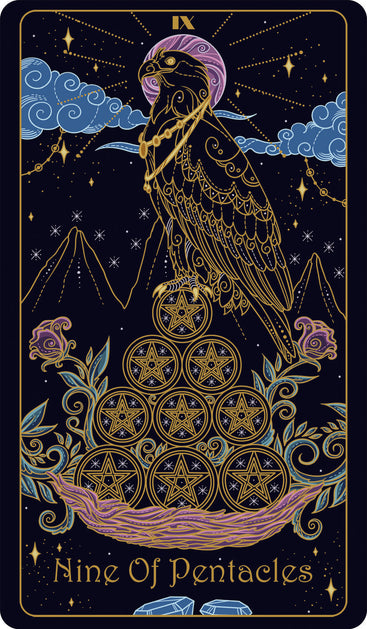 Tridevia Tarot Deck is designed with
156 beautifully crafted positive affirmations in our guidebook
, uniquely aligned to both upright and reversed meanings of each card, to not only guide your readings but also help you manifest your dreams and awaken the divine Goddess within you.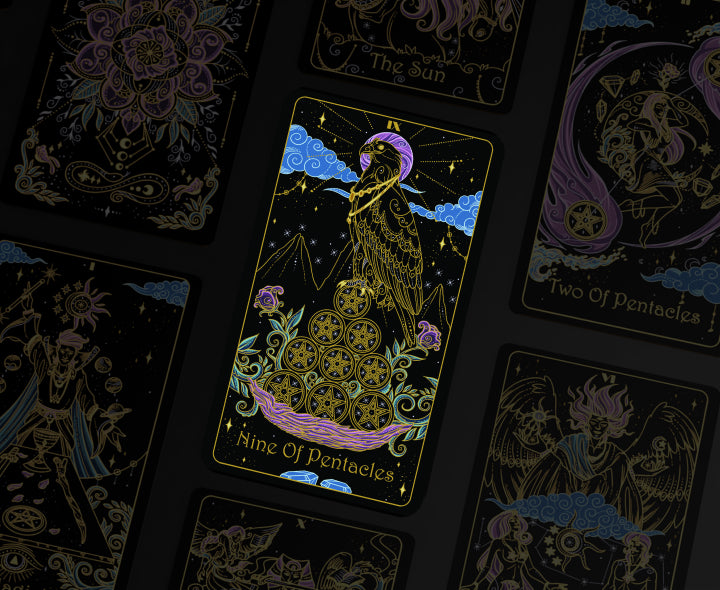 Upright Nine of Pentacles Meaning
Feel free to indulge and pamper yourself, as a reward for all of your hard work! Acknowledge your achievements and treat yourself with something that will make you happy. You have worked hard, your efforts have paid off and now it's time to enjoy the good life. Continue working on your financial independence and enjoy the sense of safety that it provides.
Affirmation
I am worthy of all the good things I have and there are many more to come.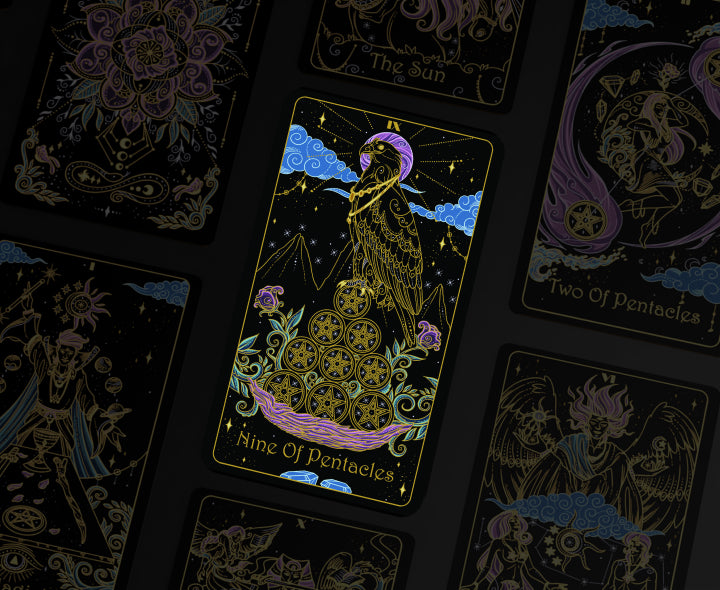 Reversed Nine of Pentacles Meaning
Take this opportunity to focus on your own sense of self-worth and value. You should reflect on your Ego and ask yourself if there are some aspects where you feel "not enough" or "too much". Don't be too hard on yourself and remember to slow down and "smell the roses". Life is a journey, not a destination and material wealth is only a part of life's abundance.
Affirmation
I can be proud of myself while staying humble.