Page of Swords Tarot Card Meanings
Page of Swords Keywords
Page of Swords Description
A young man aspires to be a warrior, with the stars on his head representing a rising energy and bright thoughts.
The arrows in his pocket symbolize ideas and intuition, but he does not have a bow, and without a bow his desires remain undirected & unfocused.
He stands above the clouds which symbolizes the height of distraction, which can make him lose balance and concentration.
The rings above his head show that he is chosen by God as a person with capacity and talent, but he needs to learn a lot and determine what direction he wants to choose to move ahead.
NOTE: The Tarot card meaning description is based on the Rider Waite cards.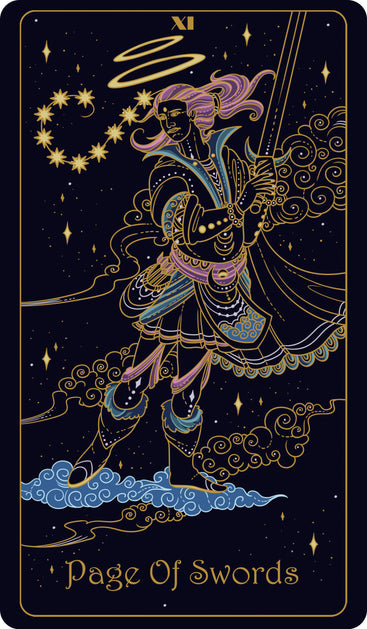 Tridevia Tarot Deck is designed with
156 beautifully crafted positive affirmations in our guidebook
, uniquely aligned to both upright and reversed meanings of each card, to not only guide your readings but also help you manifest your dreams and awaken the divine Goddess within you.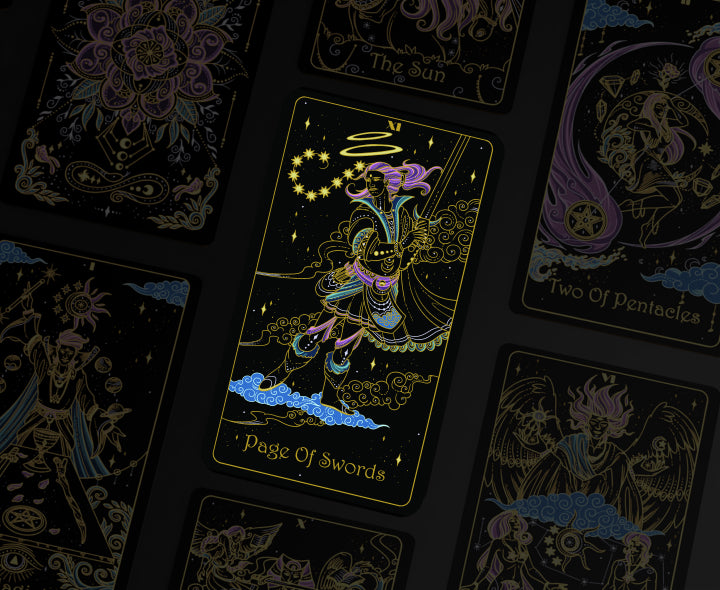 Upright Page of Swords Meaning
You are full of energy and new ideas, you're feeling enthusiastic and ready to take up a new skill or introduce some positive changes in your life. Passion, curiosity and excitement are what describes you at the moment. If you have a new project in mind, this is your sign to pursue it, despite any challenges or setbacks that might stand in the way. Let yourself be heard!
Affirmation
I believe in myself and my ability to turn my ideas into achievable dreams.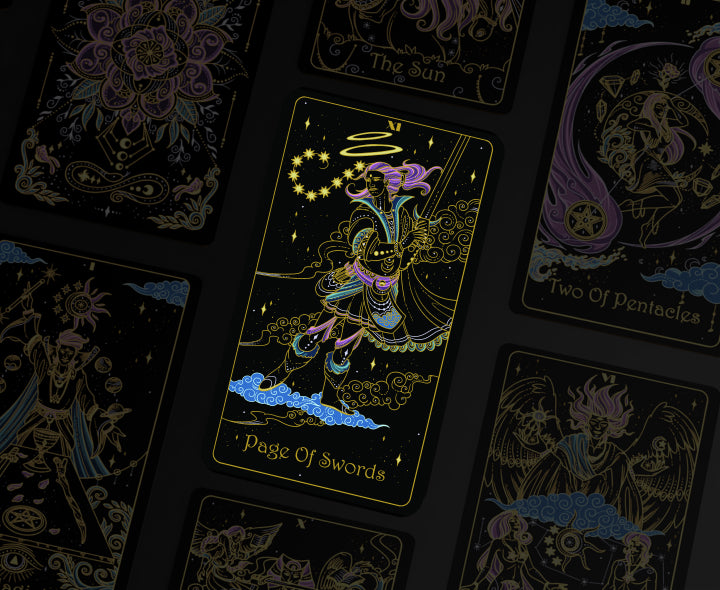 Reversed Page of Swords Meaning
You might be a bit scattered with all the ideas that you have. By wishing to do everything at once, you might end up getting nothing done fully, instead. It's better to focus on one thing at a time and give it your full attention - this will produce better results and you will procrastinate less. If you are afraid of the "attack" from other people for expressing your opinions, don't be - say what you mean without regrets.
Affirmation
I keep my focus on a few things at the time, to avoid being distracted.