Queen of Wands Tarot Card Meanings
Queen of Wands Keywords
Queen of Wands Description
A highly self-confident woman sits on a throne, with the flower in her hand symbolizing fertility.
The staff she holds is a symbol of greatness and power.
She sits on an inverted crescent moon, which shows  that  even  the moon bows down to her power.
The flames on her crown and chest signify honor.
The planet resting on her lap is the epitome of strong and independent feminism.
At the top, the sun and the moon hide behind the clouds, symbolizing that she is a shy woman deep in her heart, but if the world needs her to be brave, she will be ready.
NOTE: The Tarot card meaning description is based on the Rider Waite cards.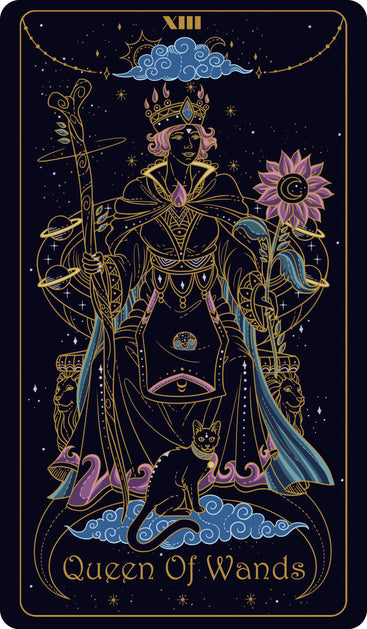 Tridevia Tarot Deck is designed with
156 beautifully crafted positive affirmations in our guidebook
, uniquely aligned to both upright and reversed meanings of each card, to not only guide your readings but also help you manifest your dreams and awaken the divine Goddess within you.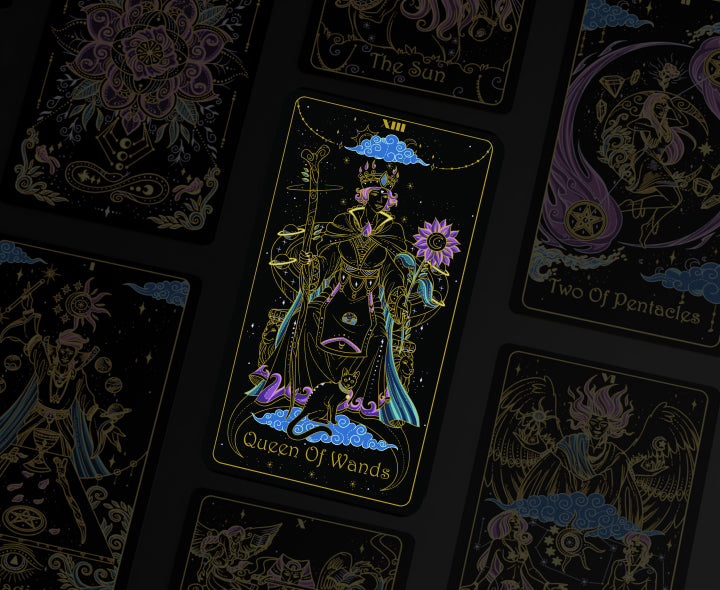 Upright Queen of Wands Meaning
Female energy dominates your life right now. You are sensual, attractive, powerful and independent. You are very social and you radiate optimism. There's a big chance of meeting new people who will be drawn in by your energy, passion and enthusiasm. Your life is organized and you are managing all of the aspects with ease. Many admire that ability of yours.
Affirmation
I am a strong woman with magnetic attractiveness.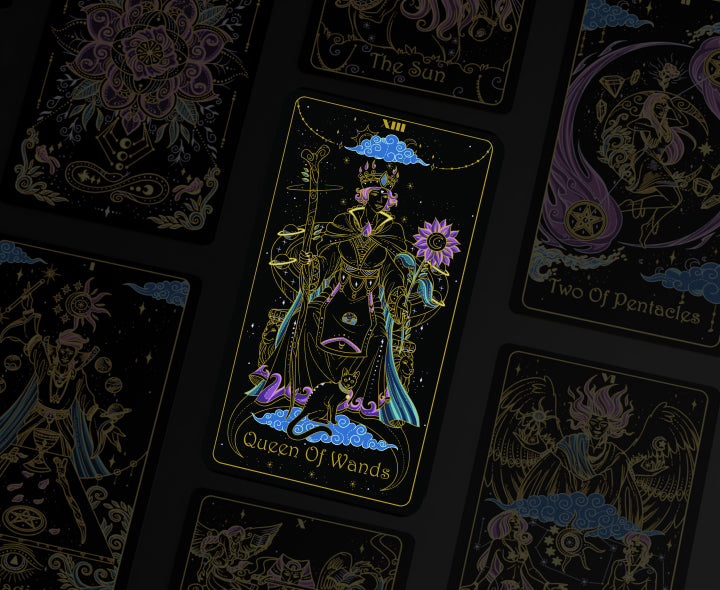 Reversed Queen of Wands Meaning
You currently enjoy living a private life. You're confident, stable and self-satisfied. You're aware that all your resources are already within you. There's no need to prove yourself to others or to justify your actions. Balance, calmness and manifestation are what describe your current life. You're bringing your attention inwards and have a strong sense of self.
Affirmation
I am stable, confident and independent.