Ten of Cups Tarot Card Meanings
Ten of Cups Keywords
Ten of Cups Description
A pair of lovers or partners are pampering themselves in overflowing happiness until their happiness streams into the small cups around them, filling their surroundings with joy and pleasure.
The sun symbol in the center of the cup denotes radiating  energy which makes the surroundings alive.
The lines at the bottom form a silhouette of mountains which convey that their happiness is at a high peak.
NOTE: The Tarot card meaning description is based on the Rider Waite cards.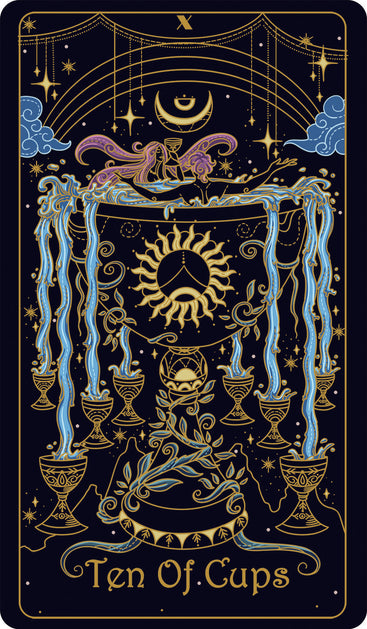 Tridevia Tarot Deck is designed with
156 beautifully crafted positive affirmations in our guidebook
, uniquely aligned to both upright and reversed meanings of each card, to not only guide your readings but also help you manifest your dreams and awaken the divine Goddess within you.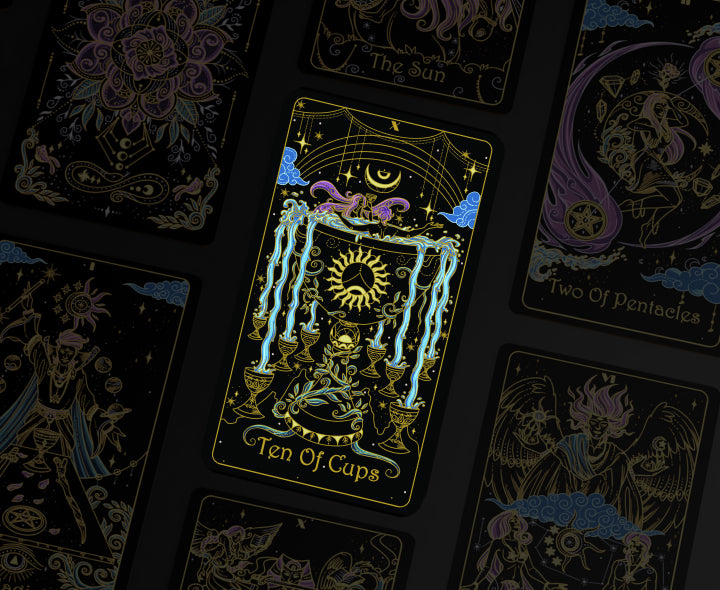 Upright Ten of Cups Meaning
Peace, calmness and long-term pleasure are the main characteristics of this tarot card. This is a completely positive card. It indicates satisfaction with your love life and strong connection with your family and friends. You may form a permanent union with your partner, who is your soulmate. Share your happiness with your loved ones and show them how much you care.
Affirmation
I am mindful of this state of peace and bliss and by focusing on it, I invite even more of it into my life.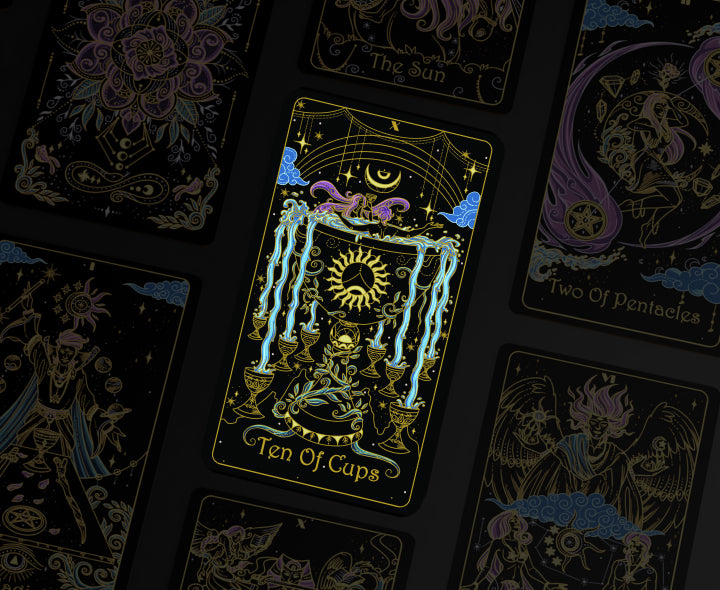 Reversed Ten of Cups Meaning
Miscommunication with people in your life might cause you to feel sad. Be aware that relationships don't need to be harmonious all the time, and work on solving the disagreements. It's important to stay true to yourself and focus on all the love you already have inside of you. Don't go over your principles to please others but also don't forget to let them know how much they mean to you.
Affirmation
I am aware that compromises are part of any successful relationship.