Ten of Pentacles Tarot Card Meanings
Ten of Pentacles Keywords
Ten of Pentacles Description
A woman standing with her hair flowing in all directions, represents the shape of a large tree. The tree is a symbol of home, a safe place for all creatures.
The baby in her arms symbolizes continuous long-term regeneration.
Ten pentacles in her hair take the shape of fruits, representing long term financial wellness and her legacy.
The sun at the top provides light and energy sustaining the needs of the big tree and the fallen apples signify abundance.
NOTE: The Tarot card meaning description is based on the Rider Waite cards.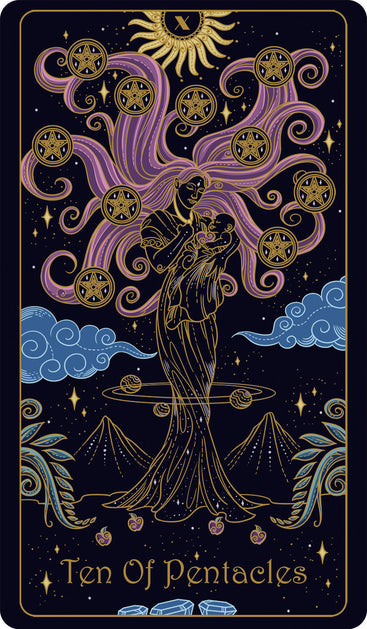 Tridevia Tarot Deck is designed with
156 beautifully crafted positive affirmations in our guidebook
, uniquely aligned to both upright and reversed meanings of each card, to not only guide your readings but also help you manifest your dreams and awaken the divine Goddess within you.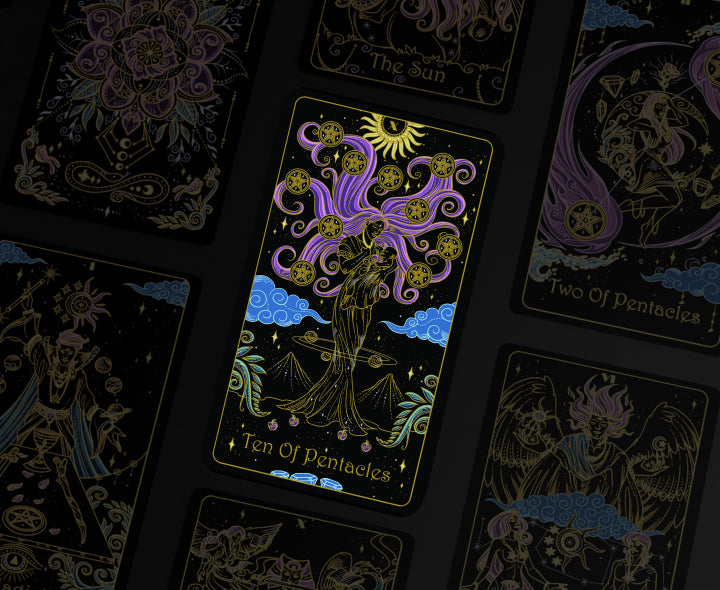 Upright Ten of Pentacles Meaning
You are feeling abundant, accomplished and fulfilled in every aspect of your life. You should be proud of everything you achieved and long-term stability is awaiting for you. Relationships with your loved ones are strong and you thrive together in a state of bliss. The solid foundation that you created makes you feel secure. It's a good time for investments or career advancement.
Affirmation
I feel deep satisfaction for my accomplishments and I am grateful for all the magical circumstances in my life.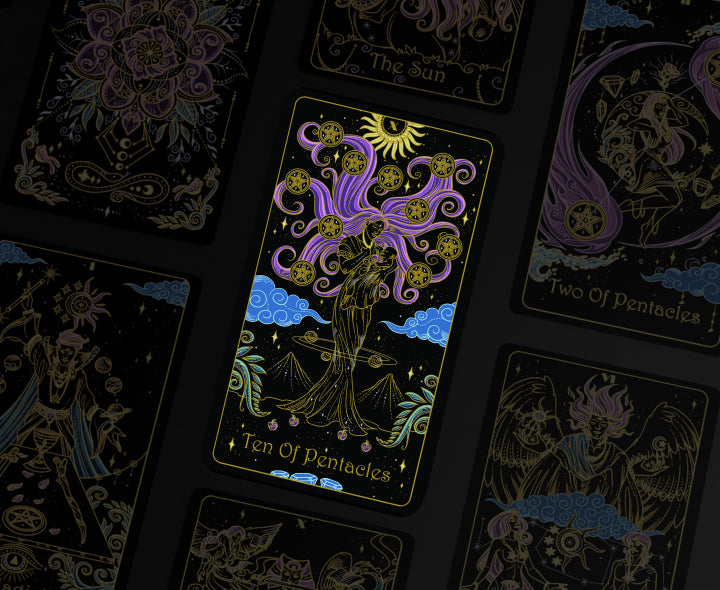 Reversed Ten of Pentacles Meaning
Be ready to question your need for stability, security and commitment in your life. Ask yourself what it is that you really want and not just what is expected of you and what you're supposed to like. Remember not to put material wealth over your relationships and reconsider your priorities when it comes to money. Your well-being should be your long term goal, not the amount in your bank account.
Affirmation
I am focusing on my long-term potential instead of short-term gains only.