Ten of Wands Tarot Card Meanings
Ten of Wands Keywords
Upright
Burden, Responsibility, Struggle, Duty, Loving Responsibilities, Promotions, Rewards for Hard Work
Skip to Upright meaning
Ten of Wands Description
The woman with five upright wands in her left hand represents everything she already has. At the top of each wand, is a symbol.
The feather represents inner calm, the paddy and hourglass signify abun- dance and time, the male symbol implies a relation- ship, and the fire denotes a strong spirit and will.
On the right hand, five hanging wands symbolize a new set of responsibilities. These responsibilities look heavy and are further weighed down by a small universe and its hanging planets. The woman needs to make a decision as quickly as she can, before they pull her down.
The woman who also sits on the moon, symbolizes being seated in a high place that is full of risk.
Her hair forms a question mark symbol, representing the many decisions she needs to make and her choice of responsibilities.
NOTE: The Tarot card meaning description is based on the Rider Waite cards.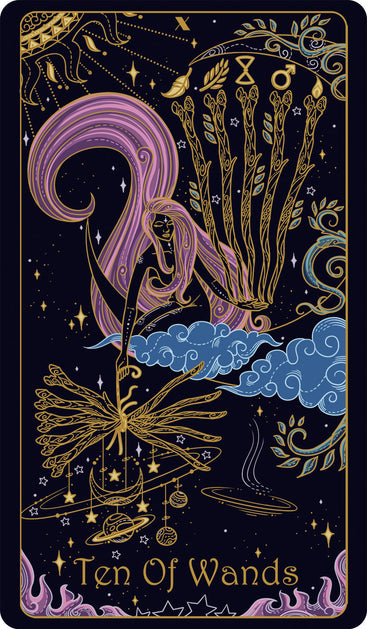 Tridevia Tarot Deck is designed with
156 beautifully crafted positive affirmations in our guidebook
, uniquely aligned to both upright and reversed meanings of each card, to not only guide your readings but also help you manifest your dreams and awaken the divine Goddess within you.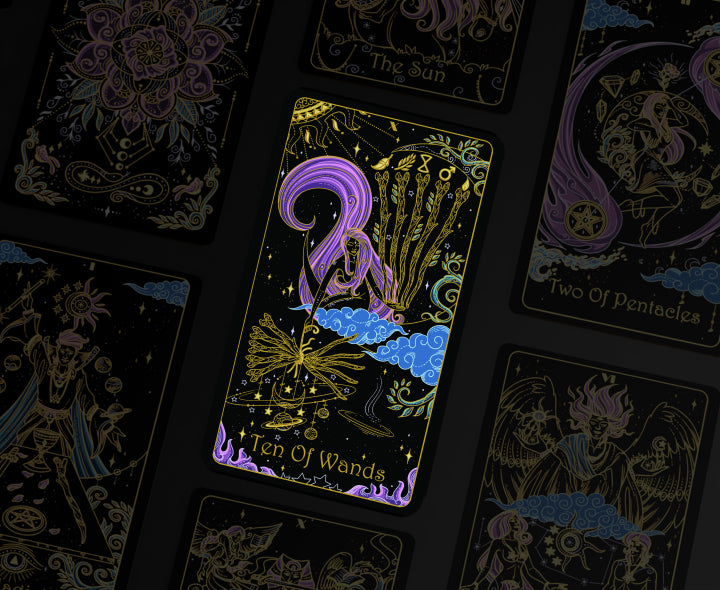 Upright Ten of Wands Meaning
You are taking final steps towards reaching your goals. It might mean extra work and pushing yourself to the limit but know how close you are. Determination will get you through and very soon you will feel relieved and proud. Your persistence and sacrifice will all be worth it once you complete this cycle. By the number of obligations that you have right now it may seem like the end's not near - but be assured that it is!
Affirmation
I know I'm very close to achieving my goals.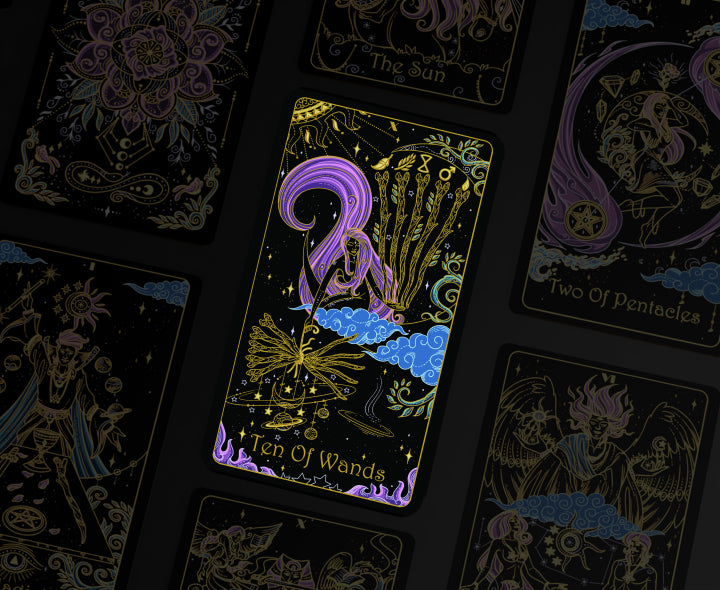 Reversed Ten of Wands Meaning
You are taking on many responsibilities which can result in stress and burnout. Don't hesitate to reach for support - you will feel relieved when someone takes over a part of your burden. There's no need to carry the world upon your shoulders. Asking for help doesn't mean that you're weak, and there are people around you who are willing to offer you a hand.
Affirmation
I learn to delegate my responsibilities with others as I'm aware that I don't need to manage everything.