The Lovers Tarot Card Meanings
The Lovers Keywords
The Lovers Description
The woman and man represent Adam & Eve, and an angel watches over them from above all day & all night long, represented by the sun and the moon in each of his palms.
The angel's closed eyes show his concentration and sincerity, and the third eye on his forehead signifies that he also pays attention to other points of view.
The woman's figure is covered by a flower waiting to be pollinated by a bee, and symbolizes femininity.
The man is covered by a bee, representing masculinity and hard work.
Their feet entwine to become one, with a flower blooming in the middle, as a symbol of their deep love and strong connection.
The merging half moon and sun between them symbolizes their everlasting love story, and the star cluster behind them represents the different memories and experiences they have had together over time.
NOTE: The Tarot card meaning description is based on the Rider Waite cards.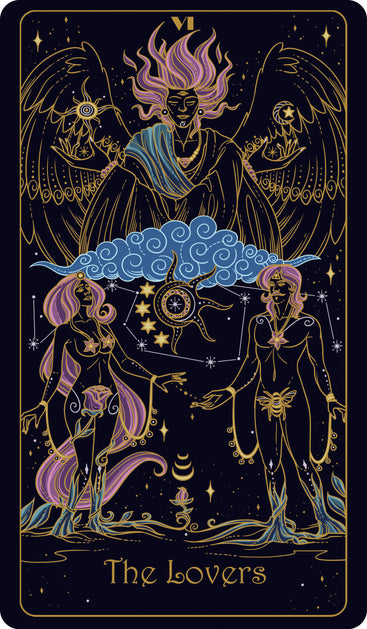 Tridevia Tarot Deck is designed with
156 beautifully crafted positive affirmations in our guidebook
, uniquely aligned to both upright and reversed meanings of each card, to not only guide your readings but also help you manifest your dreams and awaken the divine Goddess within you.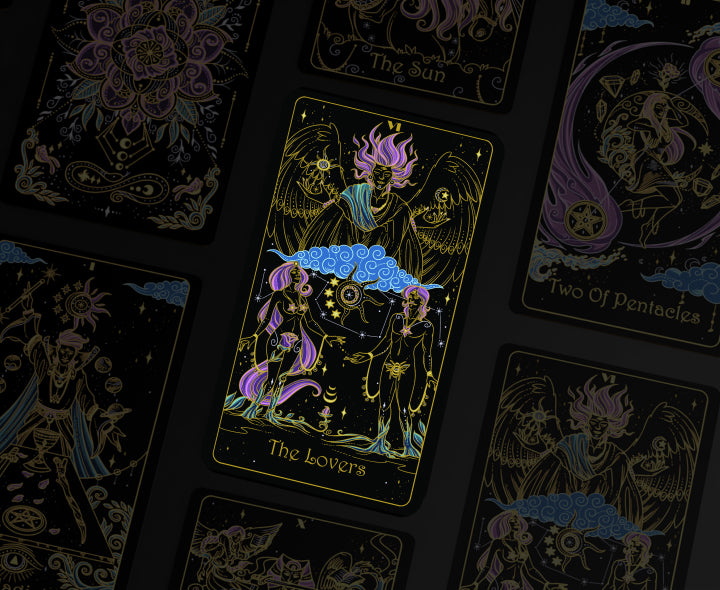 Upright Lovers Meaning
This card represents deep, loving connections towards a romantic partner, a friend or a family member. You might have found your twin flame - someone towards whom you feel intimacy, passion and share a harmonious relationship. It could also mean that you need to make some important choices. Listen to your heart and make sure your decisions are aligned with your values.
Affirmation
I give and receive love in every shape and form.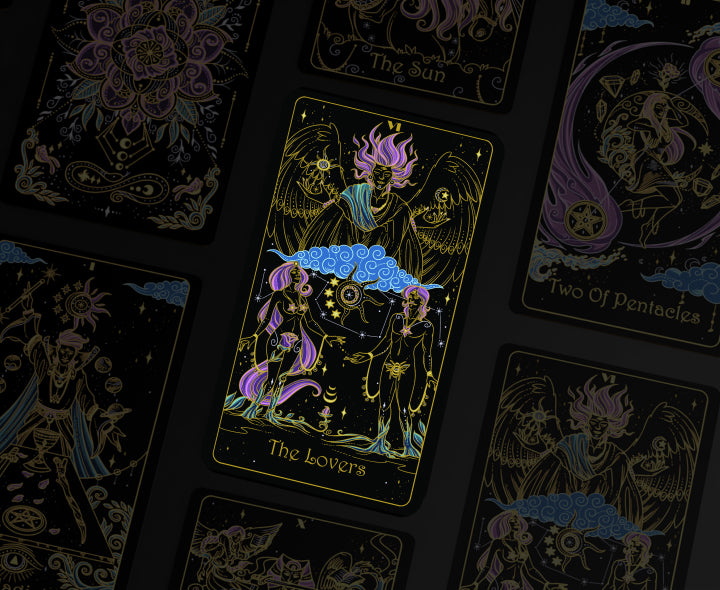 Reversed Lovers Meaning
You are in disharmony either with yourself or with your loved ones. Certain inner conflicts are making you feel unsure of your emotions. Be more open to giving and receiving love and make sure that the ratio of giving and taking is more balanced in your relationships. If you are at a turning point in your life, don't hesitate to seek advice from someone.
Affirmation
I choose love as my ultimate guide.