The Sun Tarot Card Meanings
The Sun Keywords
The Sun Description
The sun with an honest gaze removes its mask in observing the things around it, symbolizing that honesty and openness are things that must be held onto in life.
A little boy sits on a horse with a shining star on its head, representing masculine truth. The boy casts a net behind him and catches  a  star,  the  star being a symbol of the light of truth, honesty and hope, and he collects these truths as a sign of his wisdom.
The dove flying above him symbolizes God's blessing and a promise from the divine, for receiving comforts for living in honesty.
A blue waving curtain covers the open sky, yet the sky is so open that nothing is covered anymore as a form of universal honesty.
NOTE: The Tarot card meaning description is based on the Rider Waite cards.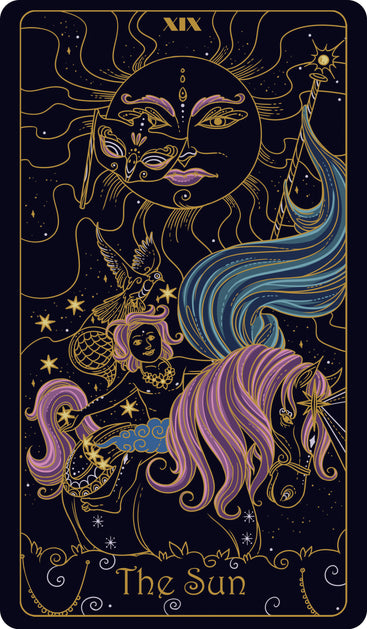 Tridevia Tarot Deck is designed with
156 beautifully crafted positive affirmations in our guidebook
, uniquely aligned to both upright and reversed meanings of each card, to not only guide your readings but also help you manifest your dreams and awaken the divine Goddess within you.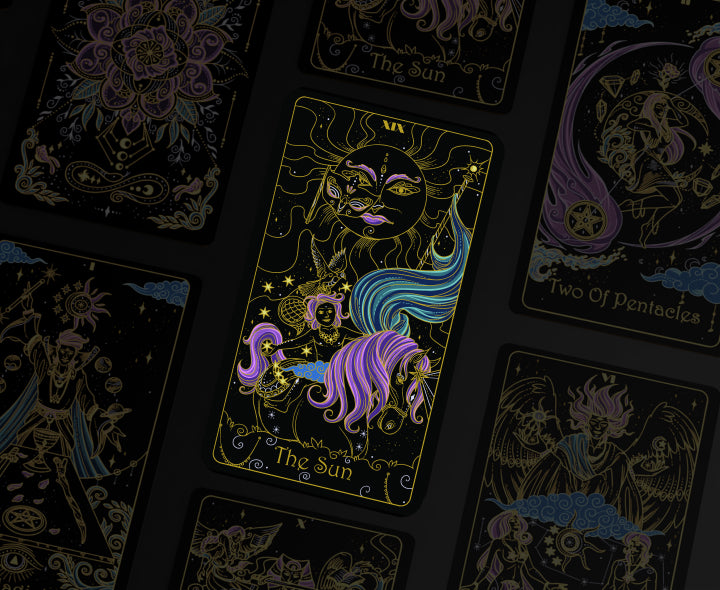 Upright Sun Meaning
You are feeling great - abundance, joy and positivity are illuminating your world! Life is treating you well, your vibration is high and you are attracting more wonderful things your way. People are drawn to you because of your warm energy and you share your generosity with them. Enjoy the enthusiasm and vitality that you experience in the present moment and know that things will get even better!
Affirmation
I see magic in everything as I, myself, am made of stars.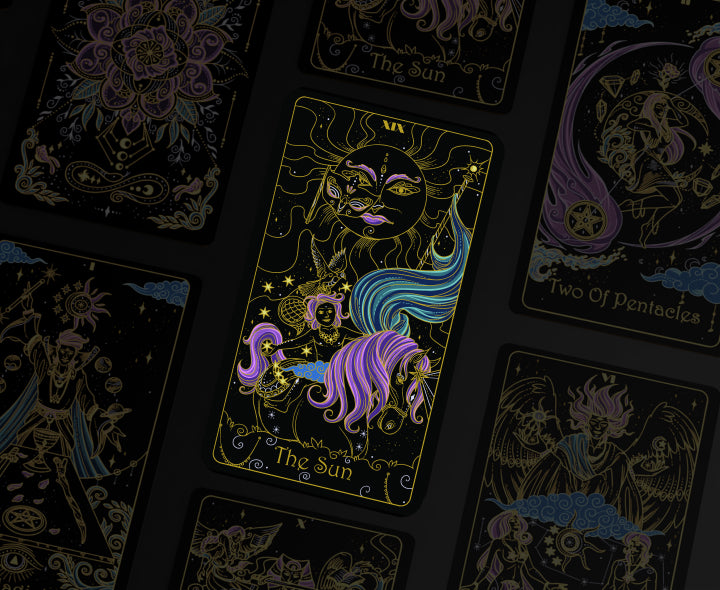 Reversed Sun Meaning
This is a reminder not to take life too seriously. Get out of your comfort zone and play - dance, sing, paint and partake in something you've been delaying due to being too busy. Remember that joy is our natural state, so do whatever brings you the feeling of excitement, similar to what a child feels when they're enjoying a game. Always look on the bright side of life!
Affirmation
I am happy for no reason - like a child.