The World Tarot Card Meanings
The World Keywords
The World Description
A woman proudly celebrates her victory over a process or cycle seen in each corner.
The top left represents blessings in food, the rainbow in the top right symbolizes an achievement in hope, the bottom left shows success in socializing, and the bottom right shows the blessings of abundant wealth.
The hourglass above the woman's head symbolizes that the moment of victory is only temporary, and the moment of failure is also temporary, and that everything will start again when a certain point is reached.
The woman is surrounded by a wreath and the handshake symbol at the bottom of it symbolizes that both the celebration of victory and the consolation of defeat are part of this cycle and journey.

NOTE: The Tarot card meaning description is based on the Rider Waite cards.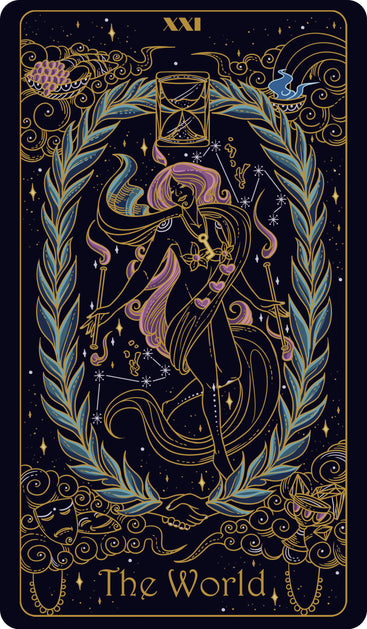 Tridevia Tarot Deck is designed with
156 beautifully crafted positive affirmations in our guidebook
, uniquely aligned to both upright and reversed meanings of each card, to not only guide your readings but also help you manifest your dreams and awaken the divine Goddess within you.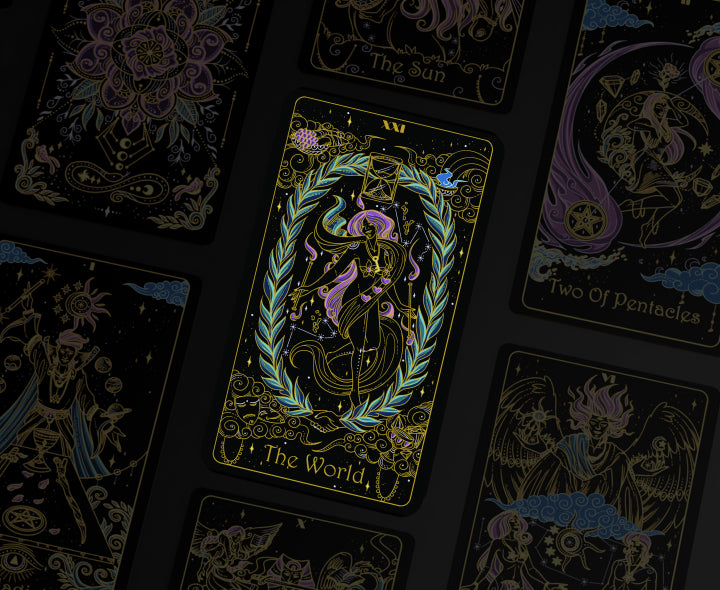 Upright World Meaning
Some aspects of your life have come full circle and you feel whole, fulfilled and accomplished. Be proud of yourself and your achievements and let that feeling linger. Reflect on how everything aligned in the best possible way. Celebrate your successes and express gratitude both to yourself and the Universe. Travel, explore and enjoy life - you have the world at your feet!
Affirmation
I am feeling complete - everything I wished for came to fruition.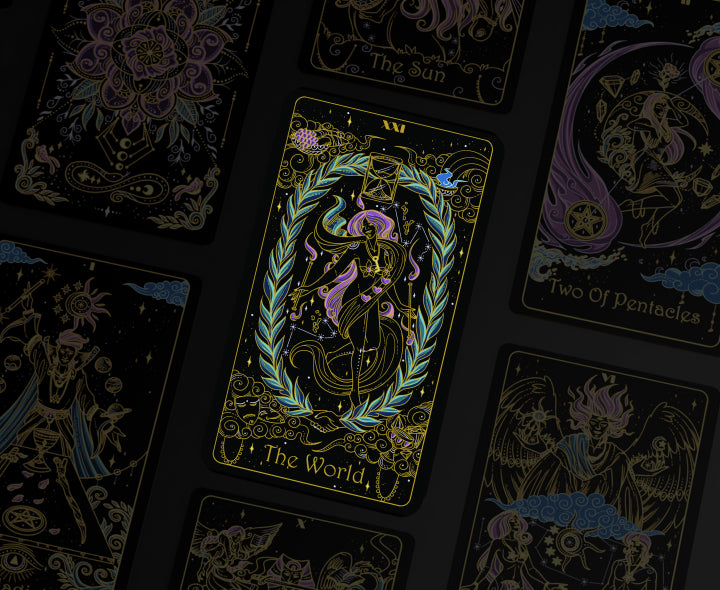 Reversed World Meaning
There's a missing piece for you to feel whole and complete. You might be seeking closure or you're attached to something that you should let go of in order to be fulfilled. Don't focus on what's lacking, but on all the abundance that you have and all the things you have accomplished. Keep the end result in mind and be ready to do what it takes to reach your goals, all while enjoying the process.
Affirmation
I enjoy every step of the journey called life.