Two of Cups Tarot Card Meanings
Two of Cups Keywords
Two of Cups Description
The toast of two hands represents the beautiful connection between two people.
The water inside the cups flows out and forms a heart as a symbol of the mutual relationship shared between each other.
Love will grow in a relationship when interest and feeling meet; and it appears as a rose in the middle of the love water heart.
There is a rose with two stems at the bottom of the card, and if either stem is missing, the flower will collapse.
Two twin-faced moons, on either side, also imply similarity and being on the same frequency.
NOTE: The Tarot card meaning description is based on the Rider Waite cards.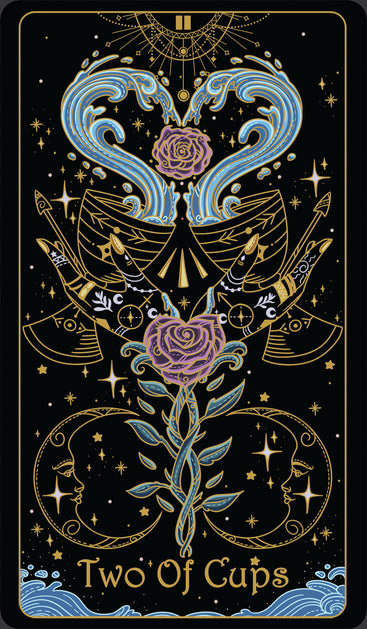 Tridevia Tarot Deck is designed with
156 beautifully crafted positive affirmations in our guidebook
, uniquely aligned to both upright and reversed meanings of each card, to not only guide your readings but also help you manifest your dreams and awaken the divine Goddess within you.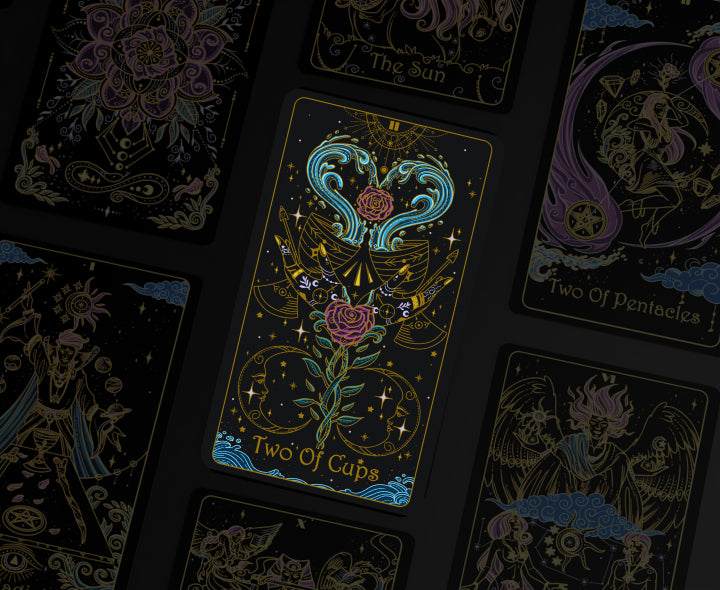 Upright Two of Cups Meaning
This card represents partnership, connection, and strong mutual feelings of appreciation and love. The feeling of passion and understanding indicates that you have met your twin flame or might meet them in the near future. Focus your intentions on the people and the things that your soul feels strongly about. Your emotions are balanced and your divine feminine energy is shining!
Affirmation
I am welcoming new connections into my life. Those who I seek - seek for me.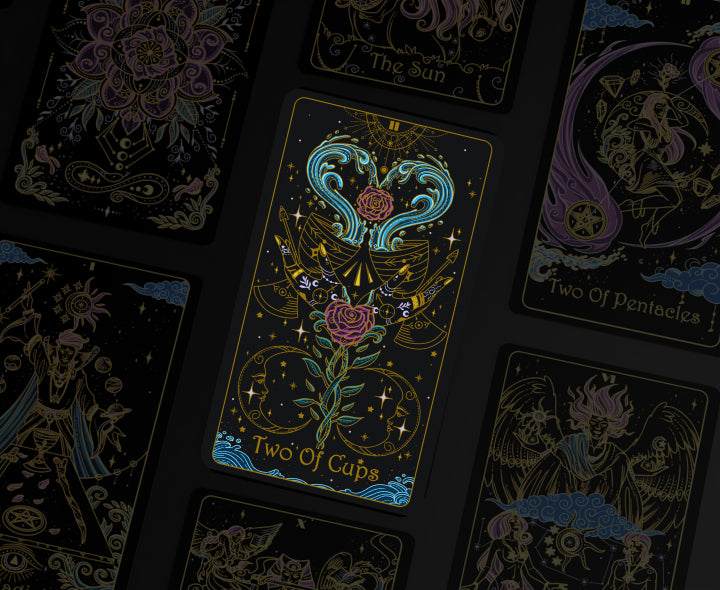 Reversed Two of Cups Meaning
Some temporary misunderstandings may occur with the people around you. You might have idealized someone who didn't turn out to be as you imagined. This is a great time to focus on yourself and your own happiness. Be aware that everyone who is supposed to be in your life will find their way back to you, and if they don't — let them go and you will soon realize why this was the best for you.
Affirmation
I will: let what comes - come, let what goes - go, and see what remains.