Wheel of Fortune Tarot Card Meanings
Wheel of Fortune Keywords
Wheel of Fortune Description
The wheel of fortune represents the different conditions of the revolving world and that we never know what destiny we will get.
The four representatives of the fixed signs are lion for Leo, bull for Taurus, woman for Aquarius, and griffin for Scorpio.
The four signs hold onto the wheel of fortune and play their part in the good and bad situations of life.
On top of the wheel, an unyielding Sphinx sits with a sword in its mouth which symbolizes the firmness needed in living and accepting what is destined by the wheel of fortune.
NOTE: The Tarot card meaning description is based on the Rider Waite cards.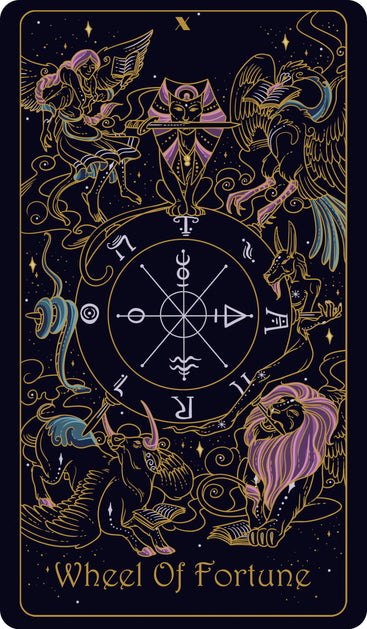 Tridevia Tarot Deck is designed with
156 beautifully crafted positive affirmations in our guidebook
, uniquely aligned to both upright and reversed meanings of each card, to not only guide your readings but also help you manifest your dreams and awaken the divine Goddess within you.
Upright Wheel of Fortune Meaning
This is a reminder of a constant change in life. Life flows, and you should flow with it. Focus on the present moment and enjoy it - don't try to grasp it as that cannot be done. Simply be mindful of it and enjoy it while it lasts. Ensure yourself good karma by providing good to others. Even though life can be unpredictable, by focusing on the good and being positive, good luck will follow you.
Affirmation
Good luck follows me every step of the journey called life.
Reversed Wheel of Fortune Meaning
Certain events that occurred might leave you feeling discouraged. Now is the time to make a choice - will you let external events dictate your wellbeing or will you learn from your mistakes and make sure that similar situations don't happen again? Remember that when you change the way you look at things - the things you look at change. Learn the lesson, rise like a Phoenix and move on!
Affirmation
Every mistake is a lesson. I accept the situation, learn from it and move on.