Eight of Pentacles Tarot Card Meanings
Eight of Pentacles Keywords
Eight of Pentacles Description
The spider is an insect that is very adept at making a masterpiece.
Eight pentacles are arranged into a beautiful necklace, with a beautiful hanging red ruby pendant.
The pentacles are connected with a woven web, made from the spider's eyeball, sacrificed to create this great work.
NOTE: The Tarot card meaning description is based on the Rider Waite cards.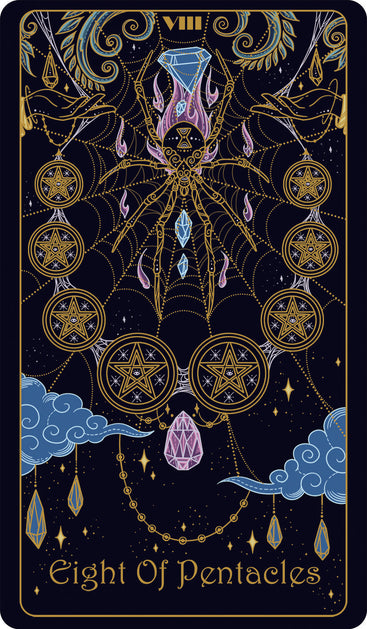 Tridevia Tarot Deck is designed with
156 beautifully crafted positive affirmations in our guidebook
, uniquely aligned to both upright and reversed meanings of each card, to not only guide your readings but also help you manifest your dreams and awaken the divine Goddess within you.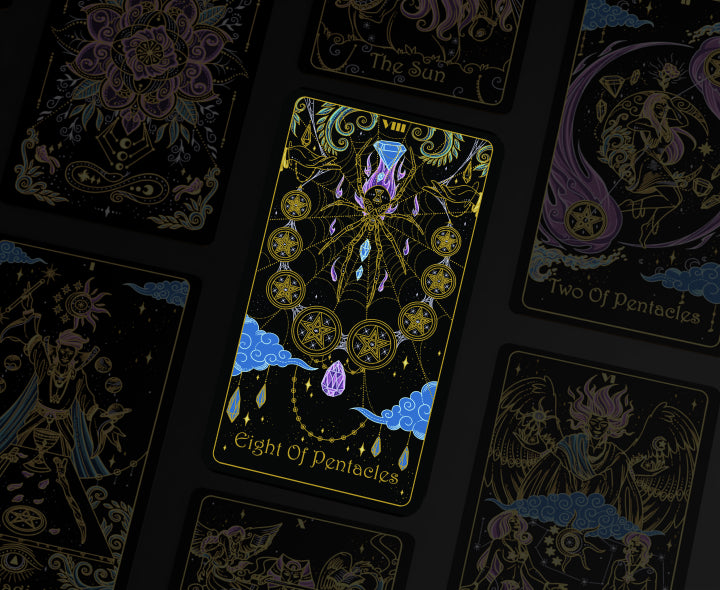 Upright Eight of Pentacles Meaning
You are fully dedicated to the work aspect of your life and mastering your skills. This is a sign of encouragement to keep doing what you are doing as it will eventually lead to success. Working on your goals means a lot of focus and maybe some repetitive tasks but it will pay off once you start to see the results of becoming a master in your desired field. Practice makes perfect!
Affirmation
I will dedicate myself to the work that is required to develop my skills and reach my goals.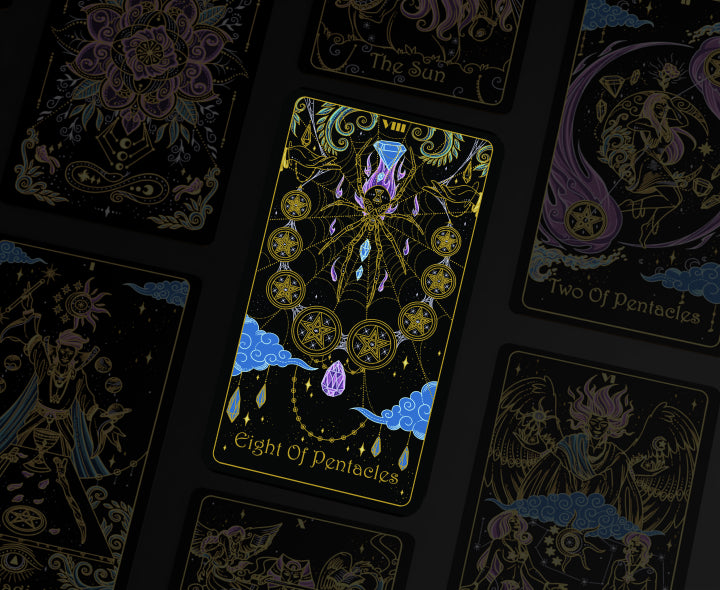 Reversed Eight of Pentacles Meaning
You might feel that you're not expressing your full potential and you're feeling stuck. This is a reminder to be less of a perfectionist and focus on the bigger picture instead of every small detail. Consider reevaluating your skills and what is important to you in order to speed up the process of personal development. Don't waste your energy on what isn't aligning with your goals.
Affirmation
I allow myself to think "negative" thoughts only for 17 seconds after which I shift my focus to 3 things I'm grateful for.