Knight of Swords Tarot Card Meanings
Knight of Swords Keywords
Knight of Swords Description
A warrior with a shining divine light above his head showcases a strong determination in choo- sing a goal.
The sun watching over him from behind acts as a witness to his unwavering passion and clear and steadfast ambition.
He sits on a magnificent steed that carries a star on its chest, symbolizing hope and purpose.
The wings on the horse's legs symbolize speed and skill, and the cloud below represents his speed of movement to race towards his goal.
NOTE: The Tarot card meaning description is based on the Rider Waite cards.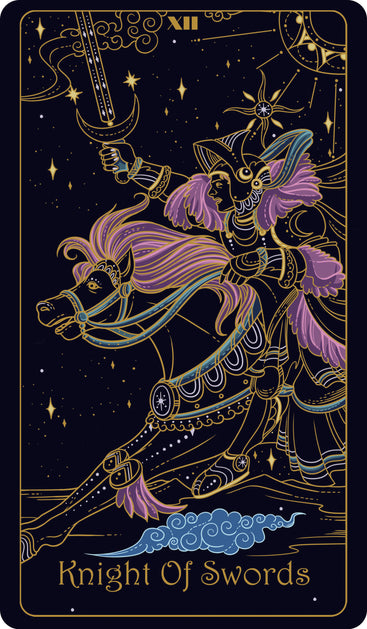 Tridevia Tarot Deck is designed with
156 beautifully crafted positive affirmations in our guidebook
, uniquely aligned to both upright and reversed meanings of each card, to not only guide your readings but also help you manifest your dreams and awaken the divine Goddess within you.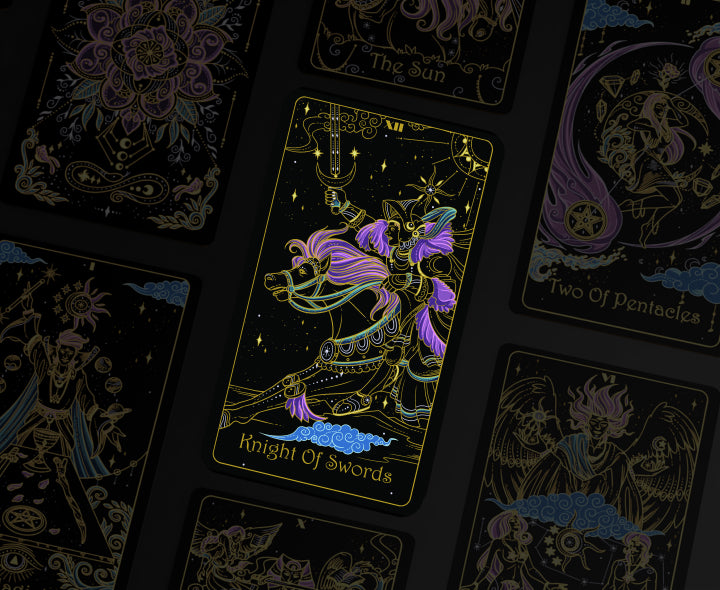 Upright Knight of Swords Meaning
You are very driven and motivated to achieve your goals. You are inspired to take action to manifest your dreams. Taking risks comes naturally to you at this time, and you're successfully bypassing the challenges in your way by being assertive and decisive. However, make sure you think through your decisions prior to taking any huge steps and avoid rushing things.
Affirmation
I am the creator of my future and I am ready to take the necessary steps to make it happen.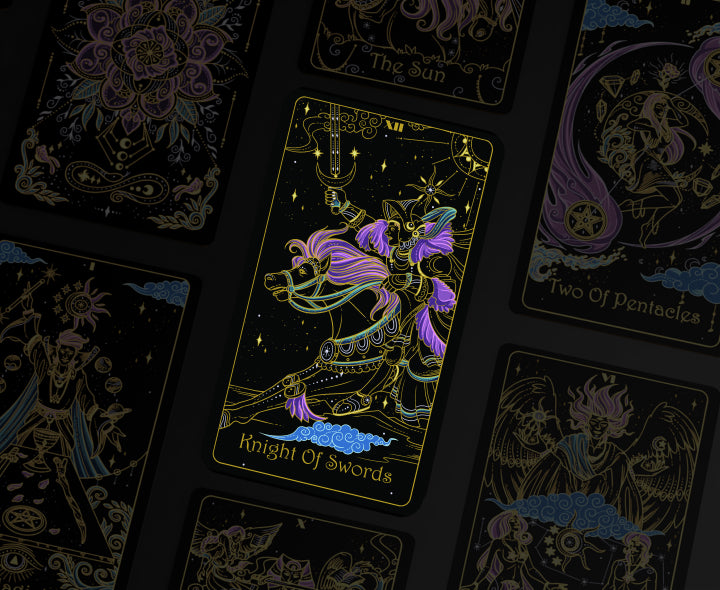 Reversed Knight of Swords Meaning
You might feel a bit reckless and impatient because you're bursting with energy, which without the necessary guidelines, can become counterproductive. You are a fast thinker but you might need to take some time to gather your thoughts in order not to make some hasty decisions. Be more mindful in your everyday activities to avoid making impulsive choices you might regret later.
Affirmation
I am patient and focused and decisive which is bringing me closer to my goals.