Nine of Wands Tarot Card Meanings
Nine of Wands Keywords
Nine of Wands Description
The large wand in the center stands firm even though it burns, symbolizing loyalty till the end, while the other wands can't fight anymore and are amazed by its faithfulness, to stick by its decision.
The diamond at the top of the staff indicates a strong determination and handling of the situation.
The subtle portrayal of a spider in this arrangement represents patience in capturing the moment, and a discipline in dealing with life.
The planets at the top of the card notice the calmness of the spider and follow it as an example, with the radiating cobwebs serving as a symbol of legacy.
NOTE: The Tarot card meaning description is based on the Rider Waite cards.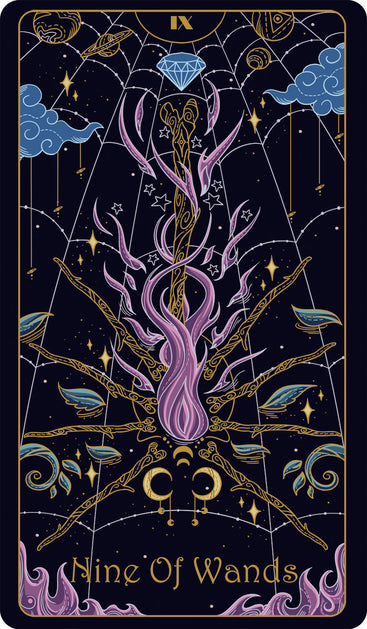 Tridevia Tarot Deck is designed with
156 beautifully crafted positive affirmations in our guidebook
, uniquely aligned to both upright and reversed meanings of each card, to not only guide your readings but also help you manifest your dreams and awaken the divine Goddess within you.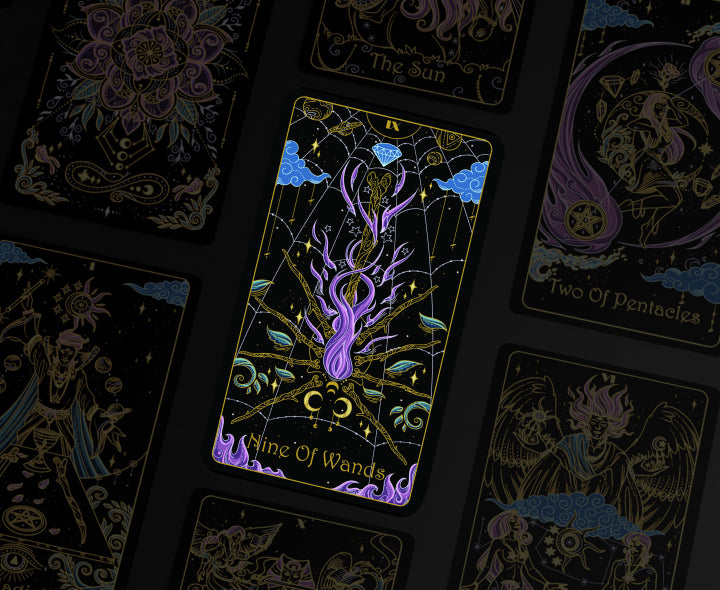 Upright Nine of Wands Meaning
You feel tired from the challenges you had to face in the past. However, you stand tall and ready to face anything that life brings you. Do not feel pessimistic as you have enough courage and power inside yourself to overcome anything. You are disciplined and determined and nothing can bring you down. Know that what doesn't kill you, makes you stronger!
Affirmation
I am learning from past experiences which makes me stronger and wiser.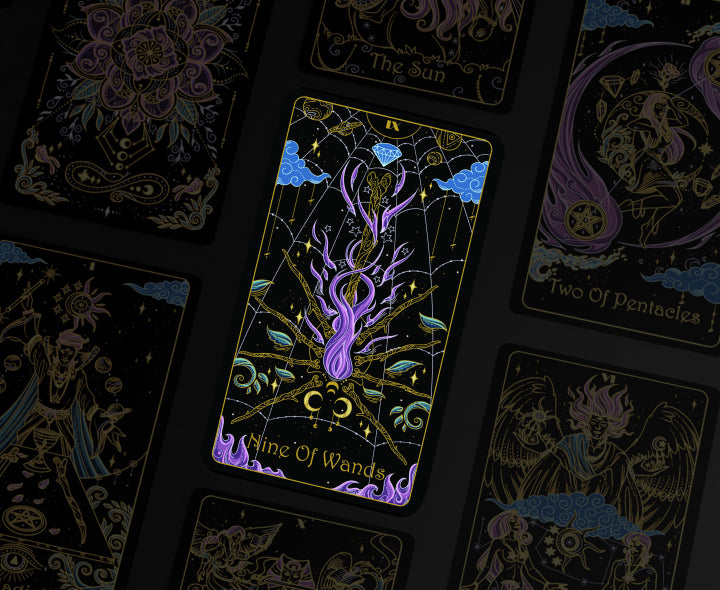 Reversed Nine of Wands Meaning
Working towards your goals seems to be taking way too much of your energy. You lack motivation and feel like life is all work and no play. Even though you might feel overwhelmed, keep going as your manifestation is just around the corner. Change your focus and remember why you started, which will give you the push to move forward. There's no time for fear!
Affirmation
I am motivated and determined to reach my goals.