The Emperor Tarot Card Meanings
The Emperor Keywords
The Emperor Description
A strong man sits with an ankh scepter, a symbol of power associated with the pharaoh, in his right hand.
The deer antlers on his head are a symbol of masculinity and gallantry.
Beneath his right hand is a scroll of rules and laws, representing continuity and order.
The medals on his chest signify qualifications and experience.
The plaid pattern on his clothing forms a chessboard design denoting strategy and logic.
The gold coins beneath his feet show that he controls an enormous amount of wealth.
In his left hand he holds the sun which symbolizes hope for the days ahead.
The tower behind him stands tall as a symbol of control, authority, and monitoring, and the eagle soaring overhead symbolizes his widespread power.
NOTE: The Tarot card meaning description is based on the Rider Waite cards.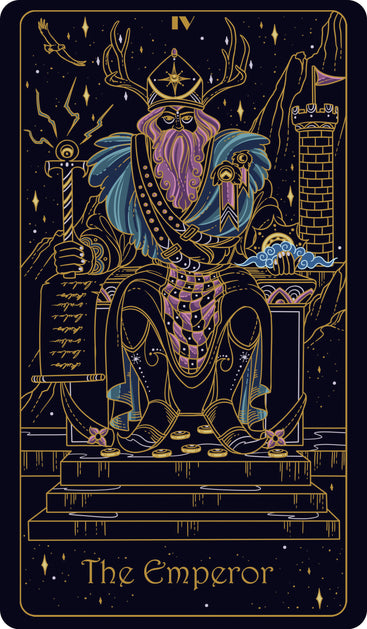 Tridevia Tarot Deck is designed with
156 beautifully crafted positive affirmations in our guidebook
, uniquely aligned to both upright and reversed meanings of each card, to not only guide your readings but also help you manifest your dreams and awaken the divine Goddess within you.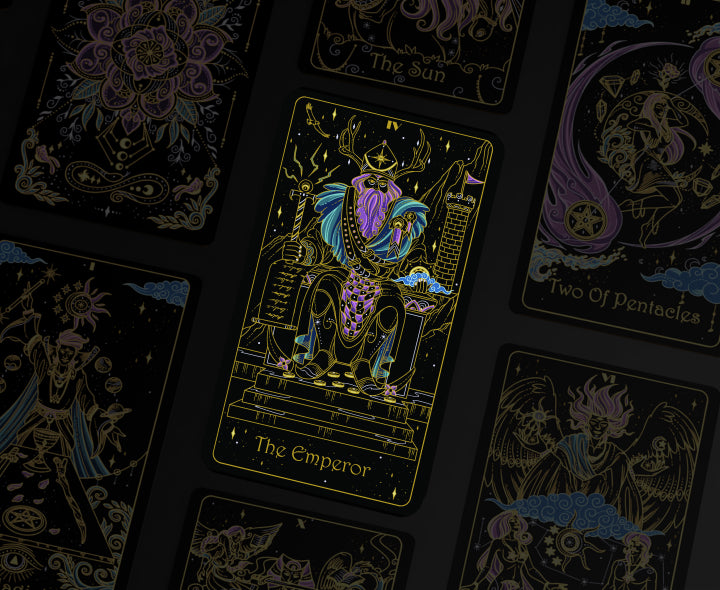 Upright Emperor Meaning
This is a period of security and stability in your life. You are balanced and not a lot of things can bother you. Authority and leadership is what describes you, which is great for sharing your wisdom with others. People admire your assertiveness and you should cherish your natural skills such as good decision making, organizational skills and being an expert in your field.
Affirmation
I am an established person and I am proud of my accomplishments.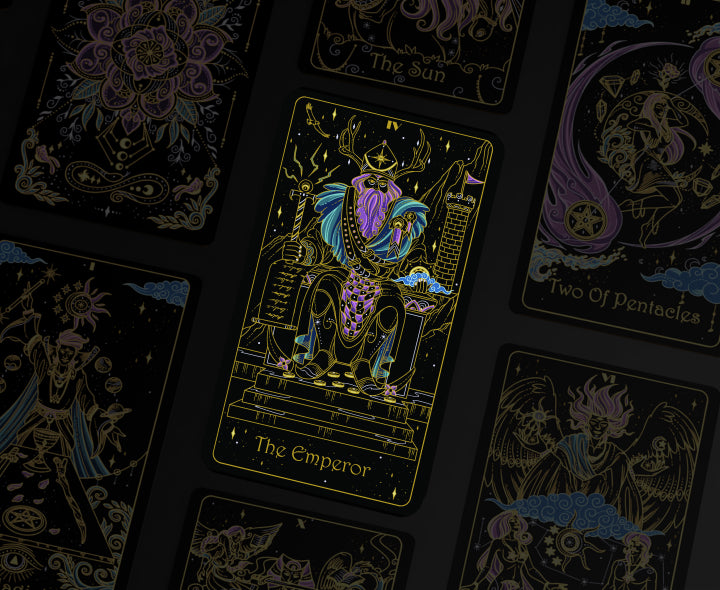 Reversed Emperor Meaning
This is a reminder to get more in touch with your masculine energy. You might have issues with dominance, authority and discipline. Ask yourself if you're expressing them too much or too little right now. Make sure to balance your energies and make some changes which might be uncomfortable at first but will definitely lead you in your desired direction. Be more flexible with yourself and others.
Affirmation
I am aware that being disciplined will lead me to my desired goals.