The High Priestess Tarot Card Meanings
The High Priestess Keywords
The High Priestess Description
A woman sits calmly above all her worries, her calmness represented by the way she dips her feet into a large bowl of holy water, keeping her head relaxed.
Above her head, two crescent moons represent great intuition that is obtained and retained by an owl, a symbol of wisdom and intelligence.
The cloud that covers the owl is a symbol of the times when the mind will be closed and hidden behind anxiety and fear.
The sun's rays pour down on her and are a blessing from the divine, giving her strength. In her hand is a scroll of knowledge that deals with the changing situations of the heart.
She sits in between yin and yang symbols, balancing both the opposites calmly, and showcases that the line between what is truly good and bad is very narrow.
The rock and rubble surrounding her represent how calm she is when dealing with any situation.
NOTE: The Tarot card meaning description is based on the Rider Waite cards.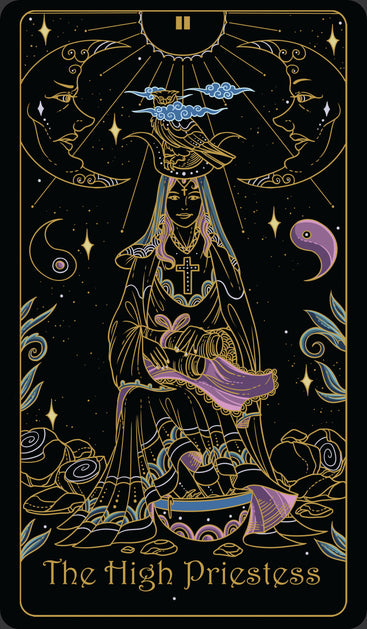 Tridevia Tarot Deck is designed with
156 beautifully crafted positive affirmations in our guidebook
, uniquely aligned to both upright and reversed meanings of each card, to not only guide your readings but also help you manifest your dreams and awaken the divine Goddess within you.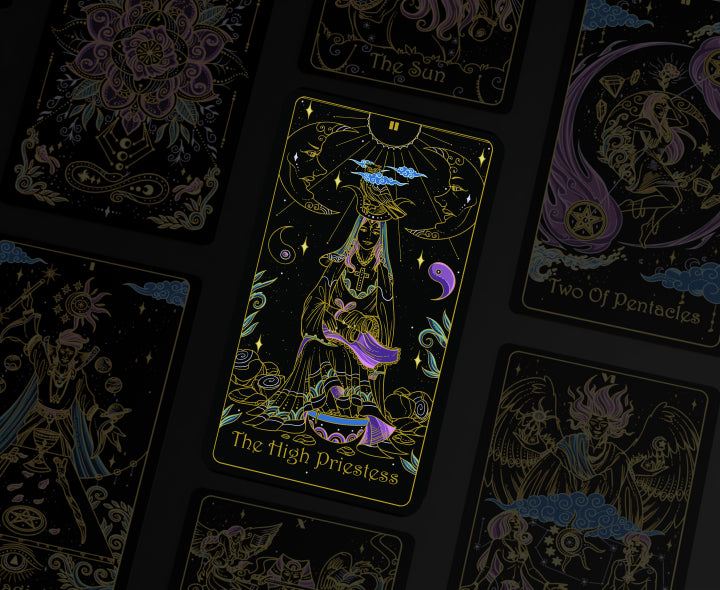 Upright High Priestess Meaning
This is a reminder to get in touch with your Divine Feminine energy. Tap into your intuition, discover what your soul truly desires and let the Universe guide you. Pay attention to what your subconscious is trying to tell you, meditate, be still and go with the flow. All the answers you are seeking are to be found within yourself. Look beyond the surface of things and watch the mysteries of the world unravel.
Affirmation
I flow through life, trusting my intuition.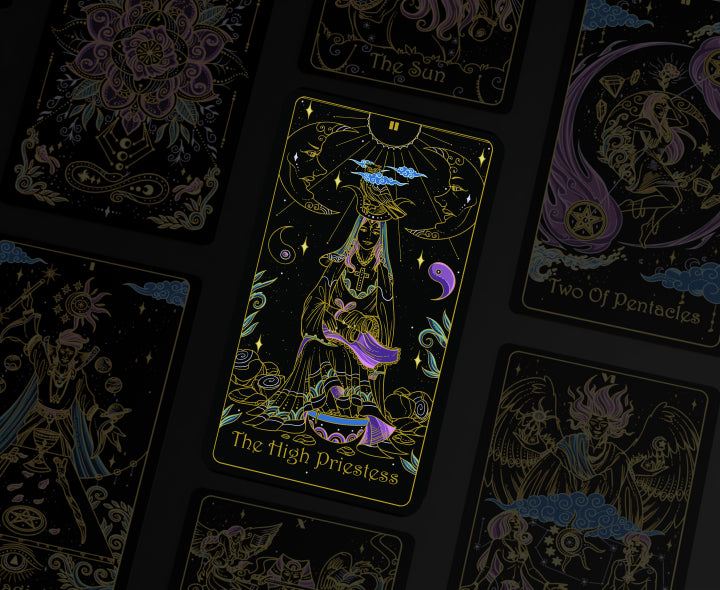 Reversed High Priestess Meaning
You are trying to get away from your soft side, hiding behind your strong, masculine features. This is why you're disconnected from your true nature that is calling you to be awakened. Listen to your inner voice and let yourself be guided by your intuition rather than your logic. Don't believe everything you think - some things are supposed to be felt. Be more honest towards yourself and others.
Affirmation
I am open to receiving guidance from the Universe.