Three of Pentacles Tarot Card Meanings
Three of Pentacles Keywords
Three of Pentacles Description
Two hands resting on each other unite and symbolize teamwork.
The thumbs of each hand touch and lock as a symbol of good relations.
The hand creatively forms a shape, which if exposed to the white light below forms the shadow of a bee, seen above it.
The bee symbolizes a solid and hard working relationship.
At the top, a pentacle nests in a honeycomb, like precious honey collected by the bees, and serves as a symbol of success and the fruitfulness of teamwork.
NOTE: The Tarot card meaning description is based on the Rider Waite cards.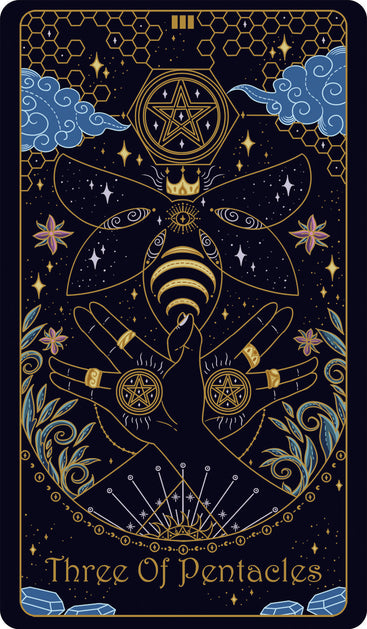 Tridevia Tarot Deck is designed with
156 beautifully crafted positive affirmations in our guidebook
, uniquely aligned to both upright and reversed meanings of each card, to not only guide your readings but also help you manifest your dreams and awaken the divine Goddess within you.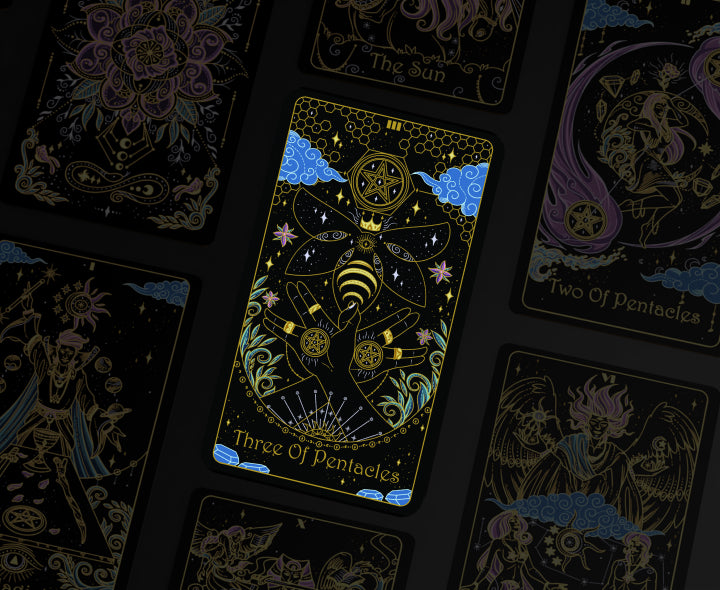 Upright Three of Pentacles Meaning
This card often marks a reward for your hard work and dedication. Your skills and knowledge allow you to advance to a higher position. You are part of a team that collaborates in a harmonious and productive way and your contribution to it is very valued. Use your creativity to implement your ideas and focus on achieving what you're passionate about.
Affirmation
I acknowledge my unique skills and go towards doing what I'm passionate about.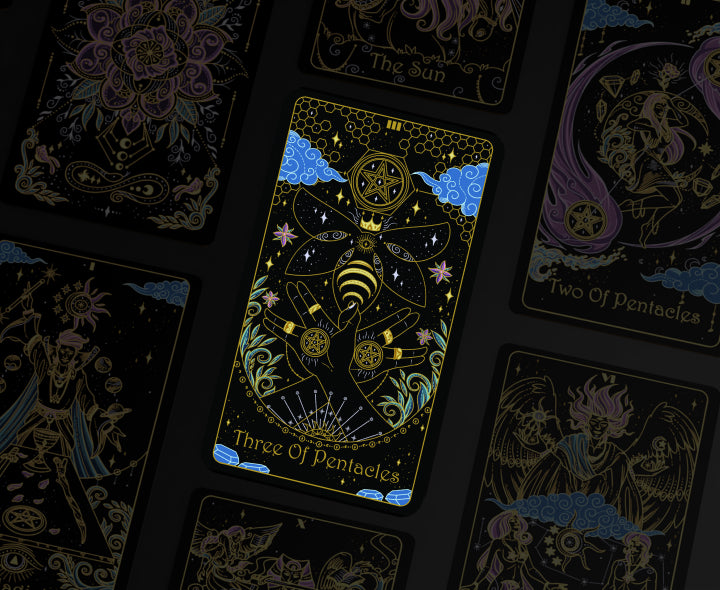 Reversed Three of Pentacles Meaning
Possible challenges in the work environment and misunderstanding with your team. You might feel that your efforts are not valued enough or that you're not as productive as you are aiming to be. Try to focus on the individual contributions of each member of your team by looking at things from their perspective. Don't lose motivation and continue mastering your skills - that will help you gain confidence!
Affirmation
I develop empathy towards others, keeping in mind that everyone has a different story.