Knight of Cups Tarot Card Meanings
Knight of Cups Keywords
Knight of Cups Description
A warrior carries a cup with elixir as medicine, with the wings on the side of the cup symbolizing new and blessed life, giving opportunity and hope.
The rose in the horse's mouth symbolizes an appreciation for the blessings given.
Water rings form a halo above the warrior's head, symbolizing that he is the bearer of hope in a struggle.
The water beneath the horse's feet symbolizes blessings received at every step of the struggle, bringing life to a dead place.
NOTE: The Tarot card meaning description is based on the Rider Waite cards.
Tridevia Tarot Deck is designed with
156 beautifully crafted positive affirmations in our guidebook
, uniquely aligned to both upright and reversed meanings of each card, to not only guide your readings but also help you manifest your dreams and awaken the divine Goddess within you.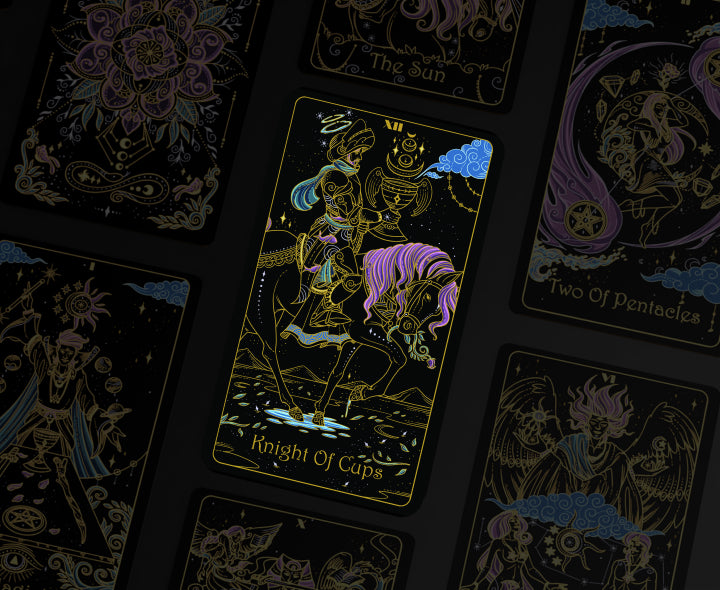 Upright Knight of Cups Meaning
Passion, excitement and romance are around the corner! You're feeling "joie de vivre" and others feel it — they are attracted to you and fall for your charm. If you fall in love with someone new, enjoy the moment and don't focus on the future too much. Follow your dreams and be open and compassionate with others and you will find what you're seeking.
Affirmation
I am open to give & receive love and I enjoy making other people feel special.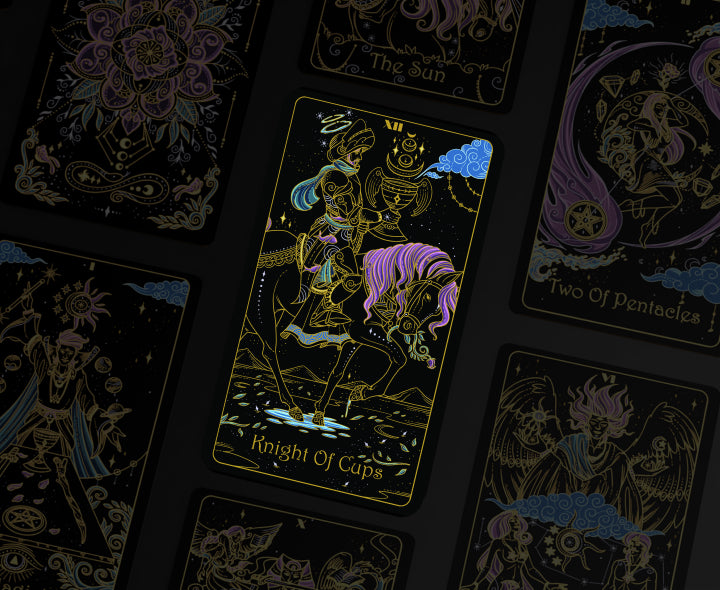 Reversed Knight of Cups Meaning
You might be manipulated by someone you trusted but take it as a lesson to pay attention to your new acquaintances before you bond with them on a personal level. This is a reminder that not everybody's intentions are pure. Be cautious to avoid being scammed. Try to be more independent and less clingy but still keep your heart open.
Affirmation
I am protective of my privacy and I am setting boundaries I want others to respect.