Page of Cups Tarot Card Meanings
Page of Cups Keywords
Page of Cups Description
A young man watches a fish trying to jump out of his cup, symbolizing a fight against unfavorable conditions.
The water on his chest represents overflowing emotions, which are still contained in the right place.
Balancing on turbulent waves, he still tries to stand firmly and respond calmly to the situation.
The moon behind his head symbolizes the great imagination in his mind.
NOTE: The Tarot card meaning description is based on the Rider Waite cards.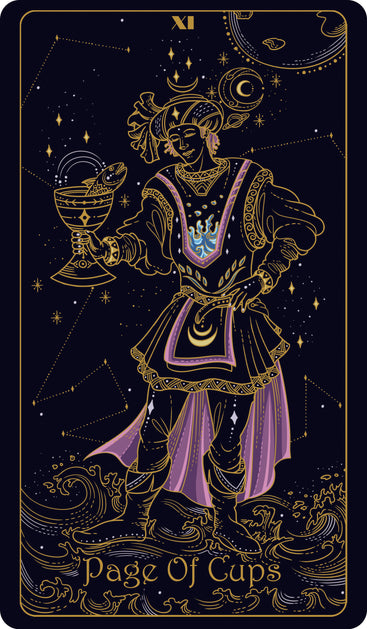 Tridevia Tarot Deck is designed with
156 beautifully crafted positive affirmations in our guidebook
, uniquely aligned to both upright and reversed meanings of each card, to not only guide your readings but also help you manifest your dreams and awaken the divine Goddess within you.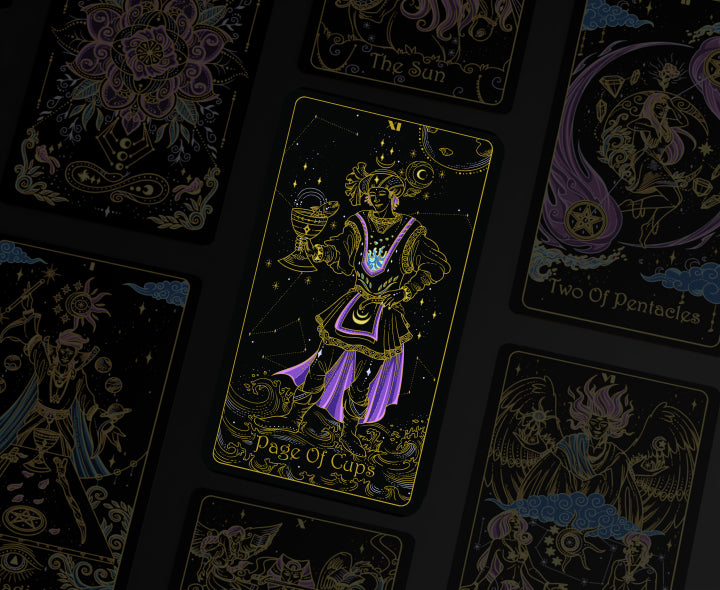 Upright Page of Cups Meaning
It is important to take the time to get to know yourself better. Your inner voice is your best guide. Feel free to express your emotions through creativity — painting, dancing, writing, music… Whatever speaks to your soul. By being yourself you may attract new job opportunities or romantic connections. You feel young and flirty, and it shows!
Affirmation
I let my emotions guide me to the things that make me the happiest and I'm aware life is supposed to be fun.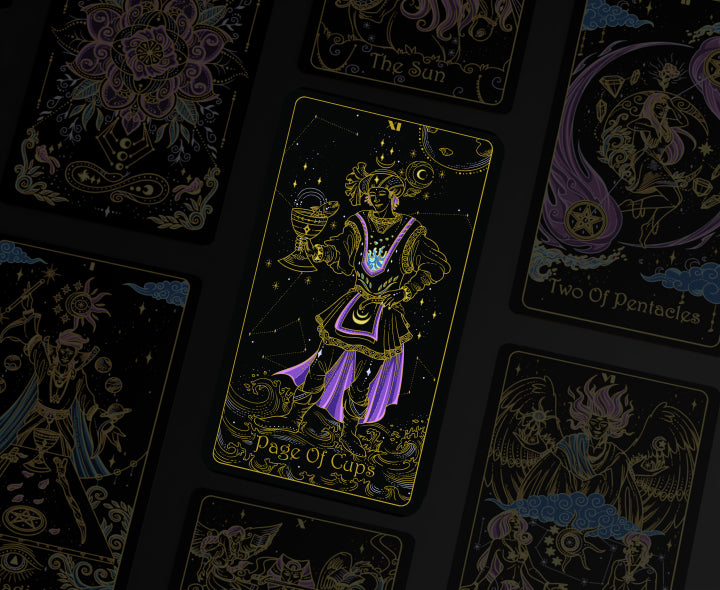 Reversed Page of Cups Meaning
You might be fearful of the future or hesitant with taking risks. If you're worried about how others perceive you, this is your sign to come out of your shell! Self-doubt and emotional insecurity can hinder your growth. Try to be more open to new possibilities, trust your intuition and be more extroverted. Redirect your creative energies into something positive.
Affirmation
I will follow my spark and welcome others to see me shine.