Four of Swords Tarot Card Meanings
Four of Swords Keywords
Four of Swords Description
A woman lays down on a crescent moon with soft clouds as her pillows, and two large swords as poles, and looks like she is resting on a hammock.
A white line swishes with wishful thinking above her, in it two birds carrying away two swords. These swords symbolize  thought  and
logic, and the departure of the birds signifies the mind being released and the thoughts being carried away from the woman.
The entire structure rests on two large swords standing on calm water. Everything looks light and is an invitation to lighten your way of thinking.
NOTE: The Tarot card meaning description is based on the Rider Waite cards.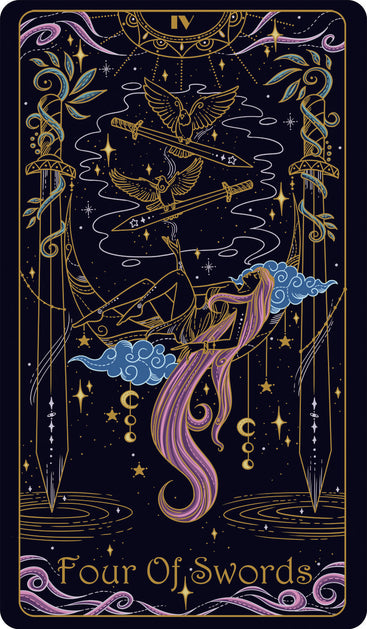 Tridevia Tarot Deck is designed with
156 beautifully crafted positive affirmations in our guidebook
, uniquely aligned to both upright and reversed meanings of each card, to not only guide your readings but also help you manifest your dreams and awaken the divine Goddess within you.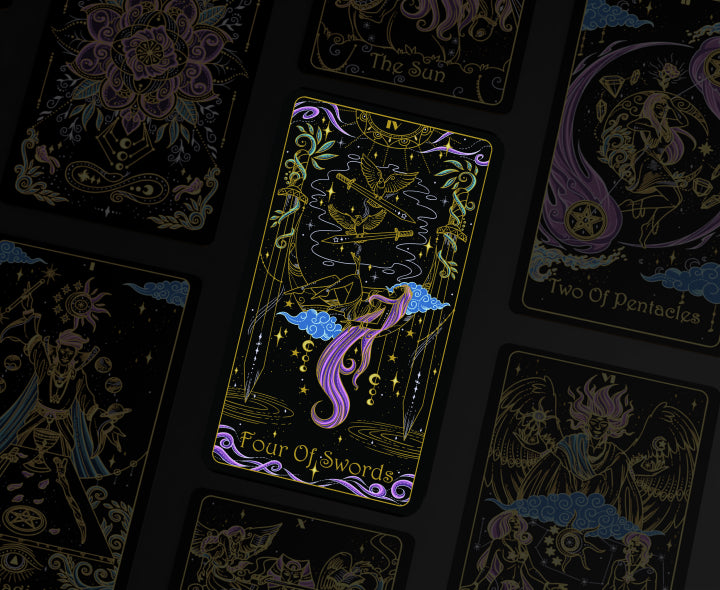 Upright Four of Swords Meaning
You are in need of a break from all the happenings in your life, in order to get back in touch with your soul. Take some alone time to reflect, meditate, do the things you enjoy, and rest. Contemplating and setting your priorities straight will be beneficial for you to gather strength to move on with your usual pace of life. Look inwards and you will find that all the answers are already within you.
Affirmation
Taking care of myself is productive.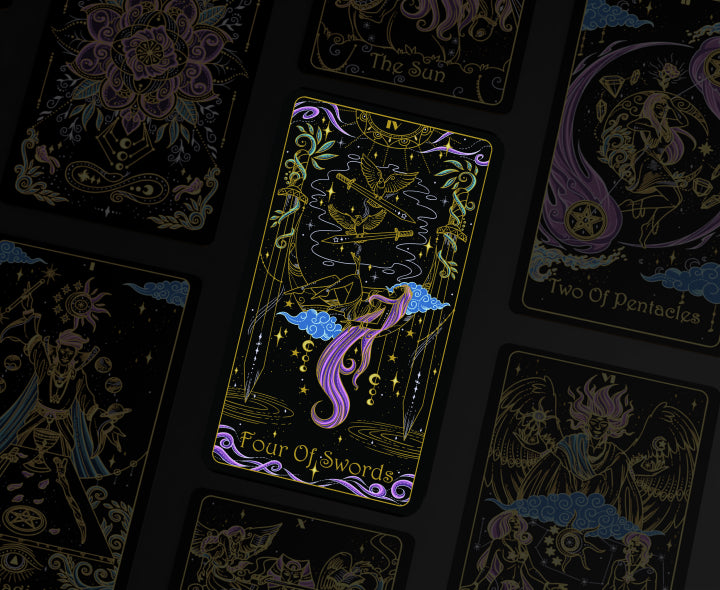 Reversed Four of Swords Meaning
Now is the time to make some changes that will change your routine to a more slow-paced one. Enjoy your own company, listen to your body's needs and don't neglect them. Spend some time in nature or do a social media detox and change your perspective - not everything has to be as serious as you make it. Taking time to rest is essential for achieving long term success, so cherish your time off.
Affirmation
I allow myself to just breathe, let go and be.