Two of Swords Tarot Card Meanings
Two of Swords Keywords
Two of Swords Description
A woman stands tall, holding two swords pointing downwards, symbolizing a peaceful attitude.
Her chin points up as a symbol of readiness and determination.
Beneath her feet is a collection of planets in specific positions and checkpoints, representing the paths and conditions that have been chosen and reached.
Behind her is a bow, with the string at her feet, and an arrowhead above her head. Overall, she looks like an arrow ready to shoot straight without looking back or turning her back to the past when a decision has been made. From another perspective, the position of the woman holding two swords with the surrounding circle of planets forms the famous "peace" symbol, and suggests the level of calm required when making decisions.
NOTE: The Tarot card meaning description is based on the Rider Waite cards.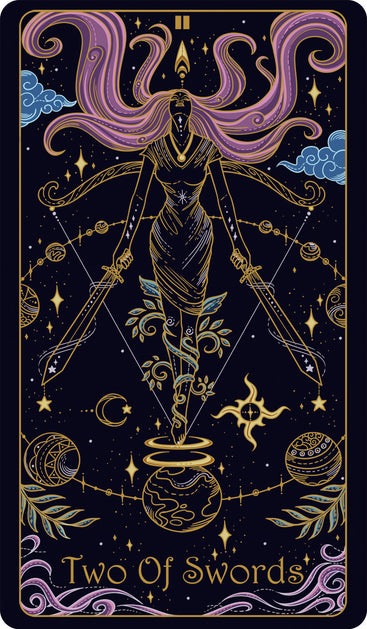 Tridevia Tarot Deck is designed with
156 beautifully crafted positive affirmations in our guidebook
, uniquely aligned to both upright and reversed meanings of each card, to not only guide your readings but also help you manifest your dreams and awaken the divine Goddess within you.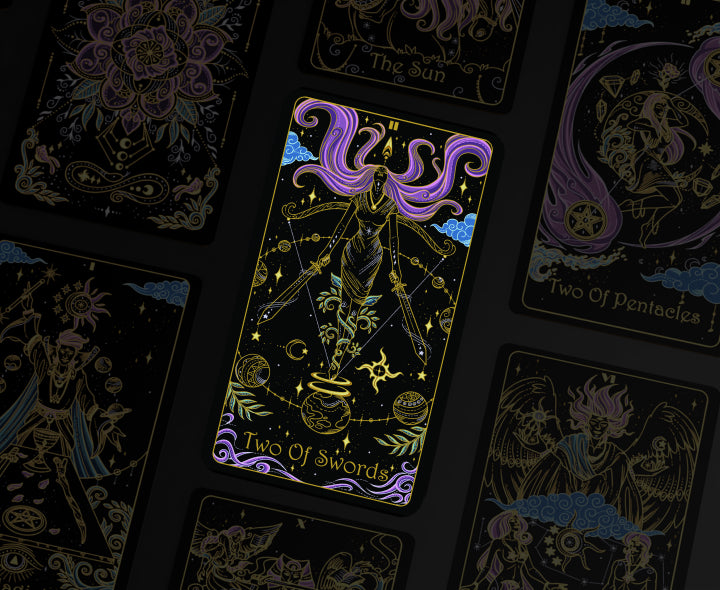 Upright Two of Swords Meaning
You have a difficult choice in front of you and you are feeling indecisive while reviewing your options. Remember that your intuition and gut feelings exist for a reason - they are a way in which your Higher Self communicates with you. Don't delay making a decision as there isn't a perfect option. You should simply choose with the intention that it is what's best for you and don't look back!
Affirmation
I trust my Higher Self to guide me in the direction which is the best for me.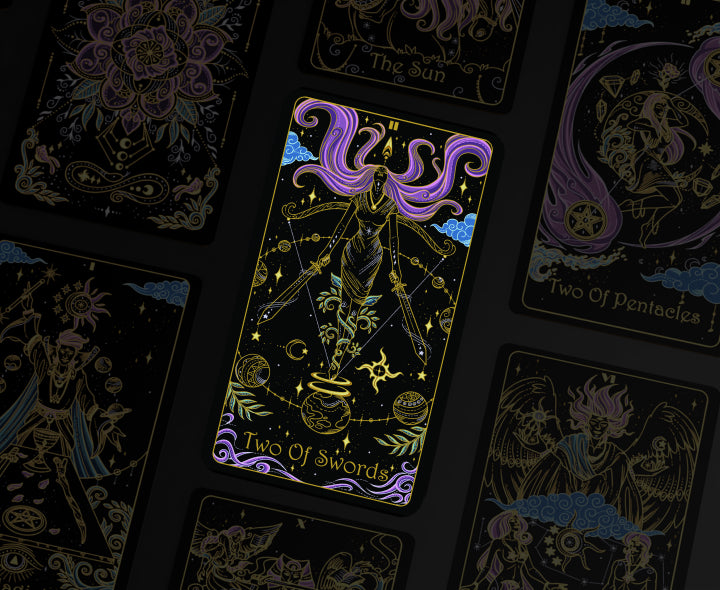 Reversed Two of Swords Meaning
You might be torn between two different sides - that can be to follow your emotion or your intellect or it could be that you're stuck between two competing sides. Either way, it's important to go inwards in order to see things more clearly. You are delaying making a decision which makes the situation worse. It's time to look inwards and find out what your heart truly desires!
Affirmation
I'm aligning myself with my true desires.