Judgement Tarot Card Meanings
Judgement Keywords
Judgement Description
An angel blows a great horn and fills the minds of all who are listening with the knowledge of judgement. Everything good and bad will be accounted for, and everyone must be prepared.
The star on each person's head is a symbol of the revealed truth.
The flag with the gavel symbol (judge's hammer) signifies the judgment carried out by the angels.
The cloud of smoke above is an archive of all the knowledge and thoughts from the people below, that the angels have gathered for judgment.
NOTE: The Tarot card meaning description is based on the Rider Waite cards.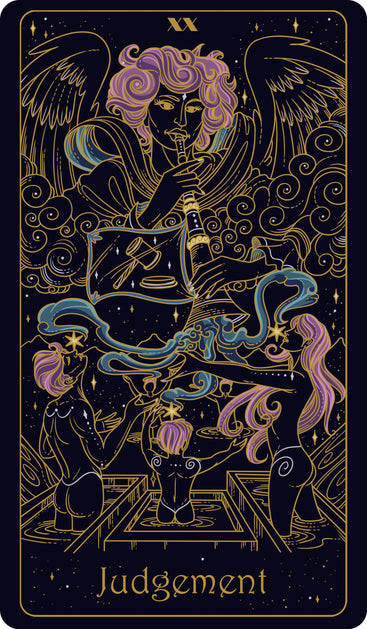 Tridevia Tarot Deck is designed with
156 beautifully crafted positive affirmations in our guidebook
, uniquely aligned to both upright and reversed meanings of each card, to not only guide your readings but also help you manifest your dreams and awaken the divine Goddess within you.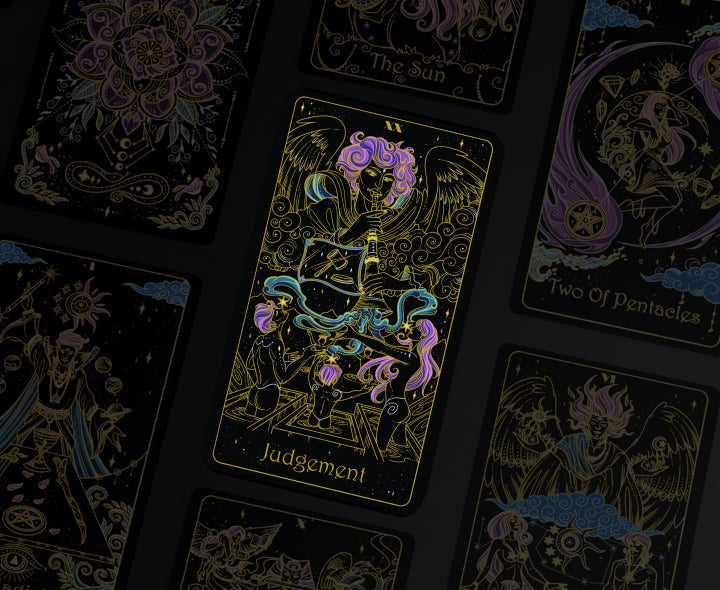 Upright Judgement Meaning
This is your call to embrace a higher level of consciousness. It's time to make some big decisions, but if you are in tune with your Higher Self, trust your judgement and know that the choice you are making is the right one. Make peace with your past, get closure and you will be ready for a rebirth. Every action has consequences, but if you're aligned with your purpose - the results will be positive.
Affirmation
I am tuning into the energy I want to attract.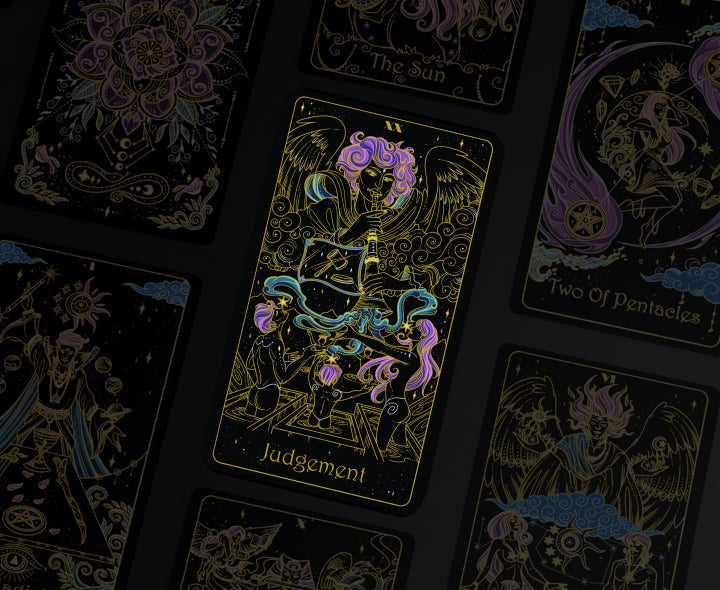 Reversed Judgement Meaning
Pay attention to the signs that the Universe has been sending you, inviting you to something bigger. Do not ignore this calling, as it is supposed to lead you to a path of self-awareness and fulfilling your highest potential. Stop wasting your energy on being too critical of yourself and judging the actions from your past. If you read the signs from your Source, you will know that everything will align as it should be.
Affirmation
I am mindful of the Universe's ways to show me the right way, by giving me signs.