Temperance Tarot Card Meanings
Temperance Keywords
Temperance Description
An angel stands balanced on one leg in a lake of water without disturbing it, as a symbol of calmness and balance of the body and mind.
A swan swims across this pool of emotions representing mental health, calmness, gracefulness and harmony.
The tower of stones piled to the angel's right symbolizes the process of achieving balance right from the bottom to the top. She pours water from one goblet to another, showing her capacity to manage feelings and emotions.
The flower on the angel's head is a symbol of a calm mind, deep in concentration, and the phases of the moon above her head represent her patience over time.
The mountain range behind her symbolizes that there is both passion and anger inside her, but it is well controlled so that it does not explode.
NOTE: The Tarot card meaning description is based on the Rider Waite cards.
Tridevia Tarot Deck is designed with
156 beautifully crafted positive affirmations in our guidebook
, uniquely aligned to both upright and reversed meanings of each card, to not only guide your readings but also help you manifest your dreams and awaken the divine Goddess within you.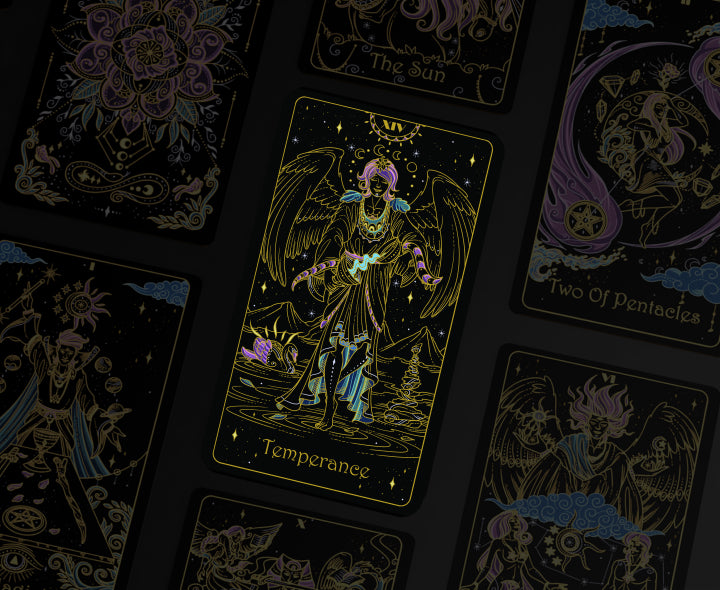 Upright Temperance Meaning
Now is the time to reflect on things that are out of balance in your life and stabilize them. Be gentle and kind to yourself, go with the flow of life and stick to that which brings you the most peace. Do not rush, be moderate in everything you do and take things lightly. Calmness and harmony should be your priority - be patient with yourself and with others and follow your Higher Purpose.
Affirmation
Balance and peace are my priorities in life right now.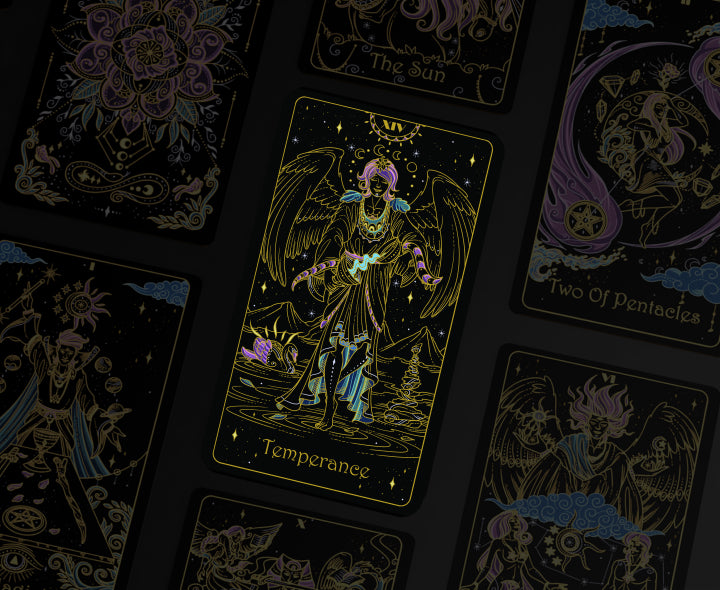 Reversed Temperance Meaning
Reflect on the activities and thoughts which are taking you further away from your dream life and work on changing them. This might just be reducing their impact, or completely eliminating them from your life in order to break the pattern. Do whatever it takes to align with your true values again. Anything that is in excess is not good for you.
Affirmation
Moderation is the key to a happy and balanced life.